What I've Been Up To
A few weeks ago (six, actually) I started the Bikini Body Guide (BBG) workout. The BBG workout is a twelve-week fitness program designed to get you, well, bikini ready. If not bikini-ready, how about going for simply being in better shape? Yes, please.
Kayla Itsines (it-seen'-ez) is the hugely popular creator of this equally popular workout. The 12-week program includes resistance training, cardio, and stretching. Each week the moves change, targeting your muscles in different ways to keep you challenged and changing.  Minimal equipment is required (a set of dumbbells, a medicine ball, a workout bench or sturdy chair, a mat, and maybe a jump rope).  A lot of the moves simply use your body weight. This is ideal for women who are concerned about becoming too muscular and prefer a leaner look. I was motivated by so many before-and-after photos submitted by her followers and the 28-minute resistance workouts.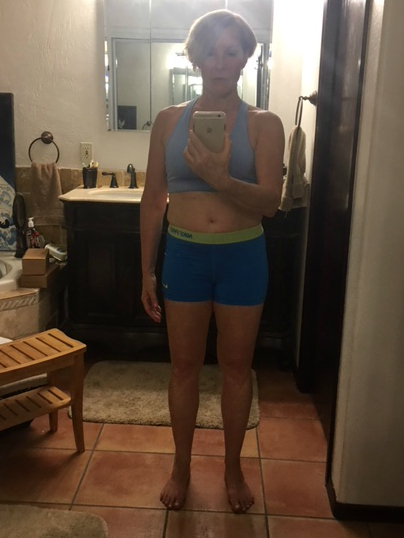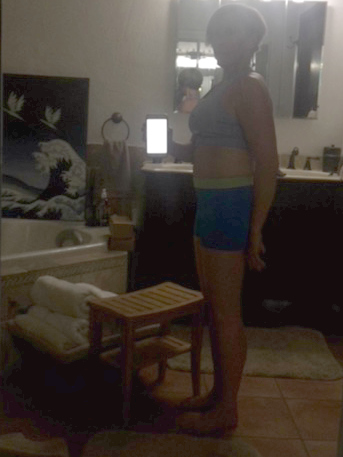 Week One
I took these photos at the beginning of Week One. I apologize for the really bad quality of all of these. The lights in my bathroom are great for getting ready in the morning and absolutely awful for snapping photos with an iPhone. My photographer/husband was at work and this is currently the only full-length mirror in the house. I should have used my regular camera and timer but I wasn't thinking. I hope you can see well enough despite the poor quality.
If you remember, I wore a bikini for my 57th birthday and posted it here. I really had to cull through some awful shots to get the few that worked, meaning I wasn't as bikini-ready as I'd hoped. I also celebrated my birthday week to the extreme with at least three birthday cakes I felt compelled to eat. I put on five real pounds that week that took about four weeks to shed. Ridiculous.  Time to focus on health, fitness, and what I could achieve.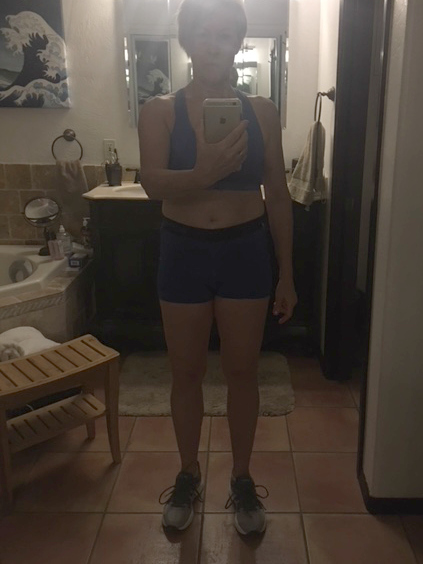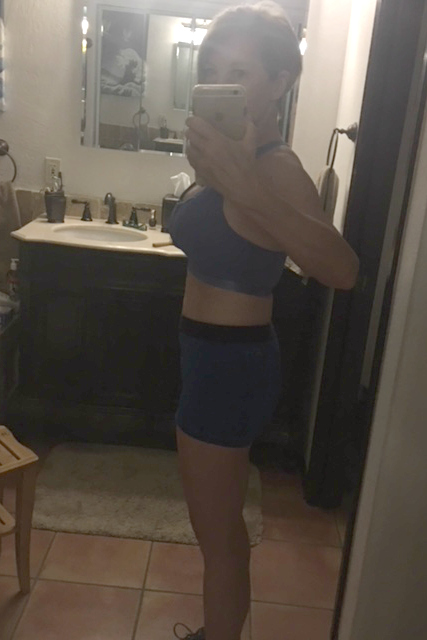 Week Five
Here are my progress photos at the beginning of Week Five. I've been good about the resistance training, with include three workouts each week. I have not been as faithful with the cardio portion, which was supposed to happen 2-3 times a week for the first four weeks, increasing to 4-5 times a week in this second section. To be honest, I skimmed through that part of the ebook in my haste to start the program and didn't pay attention to the details of the full program. My results aren't as dramatic as I would like, but I'm adjusting to follow the entire program correctly. As Kayla says, you can't do 10% of the work and expect 100% results. I'm not going to beat myself up about this, I'm just going to make the necessary changes.
Moving On
I'm excited to see what happens in this next block as I increase cardio.  I also know most people are just beginning to see results six weeks in to any program, meaning the best is hopefully yet to come.  The overwhelming majority of BBG before-and-after photos I've seen are women under 30.  As much as I'm doing this for myself, I'm also doing it for every woman over 50 who wonders if she can, or has already decided she can't.  If I can do this, anyone can, and I truly hope I can inspire you to try.
Keep checking back to see how I'm doing.  If you decide to join in, I'd love to hear how you're doing!
Thanks for reading!