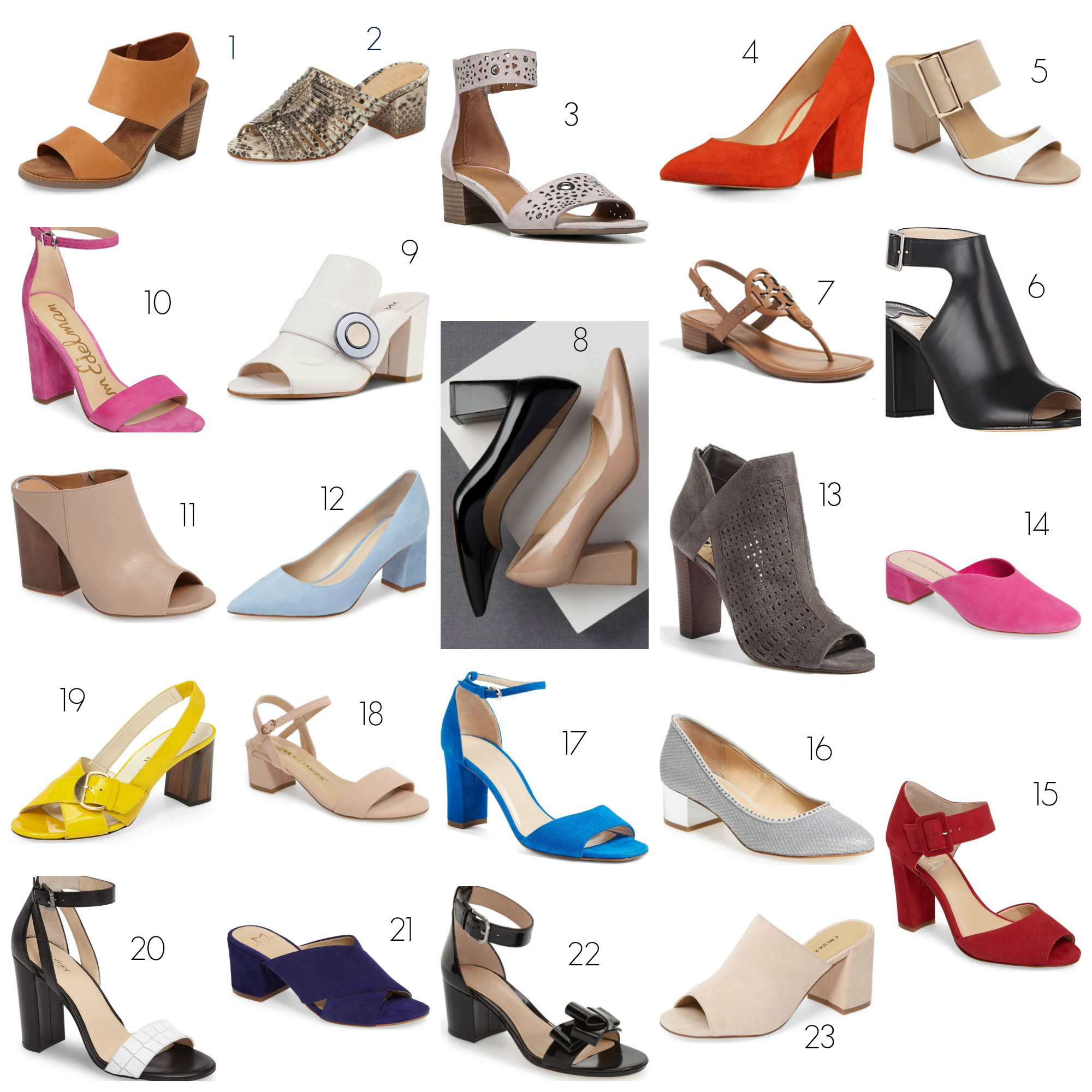 1 | 2 | 3 | 4 | 5 | 6 | 7 | 8 | 9 | 10 | 11 | 12 | 13 | 14 | 15 | 16 | 17 | 18 | 19 | 20 | 21 | 22 | 23
It doesn't take much looking to see the shift happening in shoes this season.  Although stilettoes are still a part of the landscape, chunky heels are everywhere.  In some cases "chunky" means downright fat.  Some of these heels are really wide and there are some crazy shapes out there.
How do you like the trend?  I can't say I was excited at first.  I mean, we've been here before. File it under "Everything old is new again".  But the more I check out the shoes, the more I find styles I like.  I've rounded up several for today's post, mostly from Nordstrom, and realized there are so. many. options.  Designers are all in with the look which means it's probably going to be around for a while.
The chunky heel look has so much variety.  Check out the options above – everything from pumps to mules, with heels in so many shapes and sizes.  A lot of the options are really fun.  I wasn't sure I was going to play along, but now that I have, I've noticed a couple of things.  First, wider heels have more stability.  You may find you can go with a slightly higher heel as a result – or not. Maybe more stability at your normal "elevation" sounds ideal.  Second, walking through grass is so much easier (read: outdoor wedding).  We've all dealt with the challenge of sinking heels in soft soil.
Like everything else, you'll probably find you need to try on a variety of styles to find the ones that most flatter you.  I dipped my toe in the conservative pool with a beige suede version of #17, but I'll be adding a few more of the options above because some of them are really cute.
By the way, if you're a Nordstrom card holder  you can earn triple points on your purchases through Sunday.  I'm in.
Happy Friday, friends.  Thank you so much for stopping by!