It's frustrating to find something fabulous in the store that I can't link for you on the blog.  This sweater is one of those items.  It's supersoft, oversized and so cozy.  And I can't find it online ANYWHERE.  Grrrr.  I linked other options, but try visiting your local Dillard's to find this one in the store.  It feels amazing.
I bought my destroyed jeans several years ago when Voctoria's Secret had a pretty full clothing line.  I used to order from them a lot, but I wasn't too enamored by their subpar return policy so I stopped buying from their website.  I'm featuring similar destroyed styles below.  Destroyed jeans in various forms seem to have found a semi-permanent place in fashion and I'm still wearing mine several years after their purchase.
And of course I want to juxtapose this destruction against the refined, upscale look of Valentino Rockstuds.  Quick note – as fabulous as these shoes look, they did not make it through my daughter's wedding last month.  My toes actually went numb.  I'm not sure if it was the temperature, the shoes or all the dancing, but several hours in I was miserable.  "Vanity, thy name is woman" gave way to practicality and comfort.  Translation:  I finished the evening barefoot.  The moral of my story – these shoes are fabulous when you'll be sitting, but if you're standing a lot, proceed with caution.
 This weekend I'll recap Week One of the Bikini Watch.  It hasn't followed the schedule I'd planned, but we all know life gets in the way when we've made other plans.  the trick is to overcome the setbacks and figure it out.  I'm in the process of figuring it out.
Happy Friday Friends!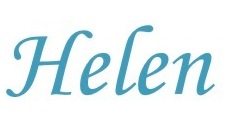 I found my sweater at my local Dillard's and unfortunately can't find it online anywhere.  Try the store, or some of these options: here, here, here, and  here, larger size here  |  Destroyed jeans, similar here, here, and here  |  Valentino Rockstud Pumps, others here, here, and here, or maybe you'd prefer plain pumps like these  |  Chanel Earrings, similar here and here