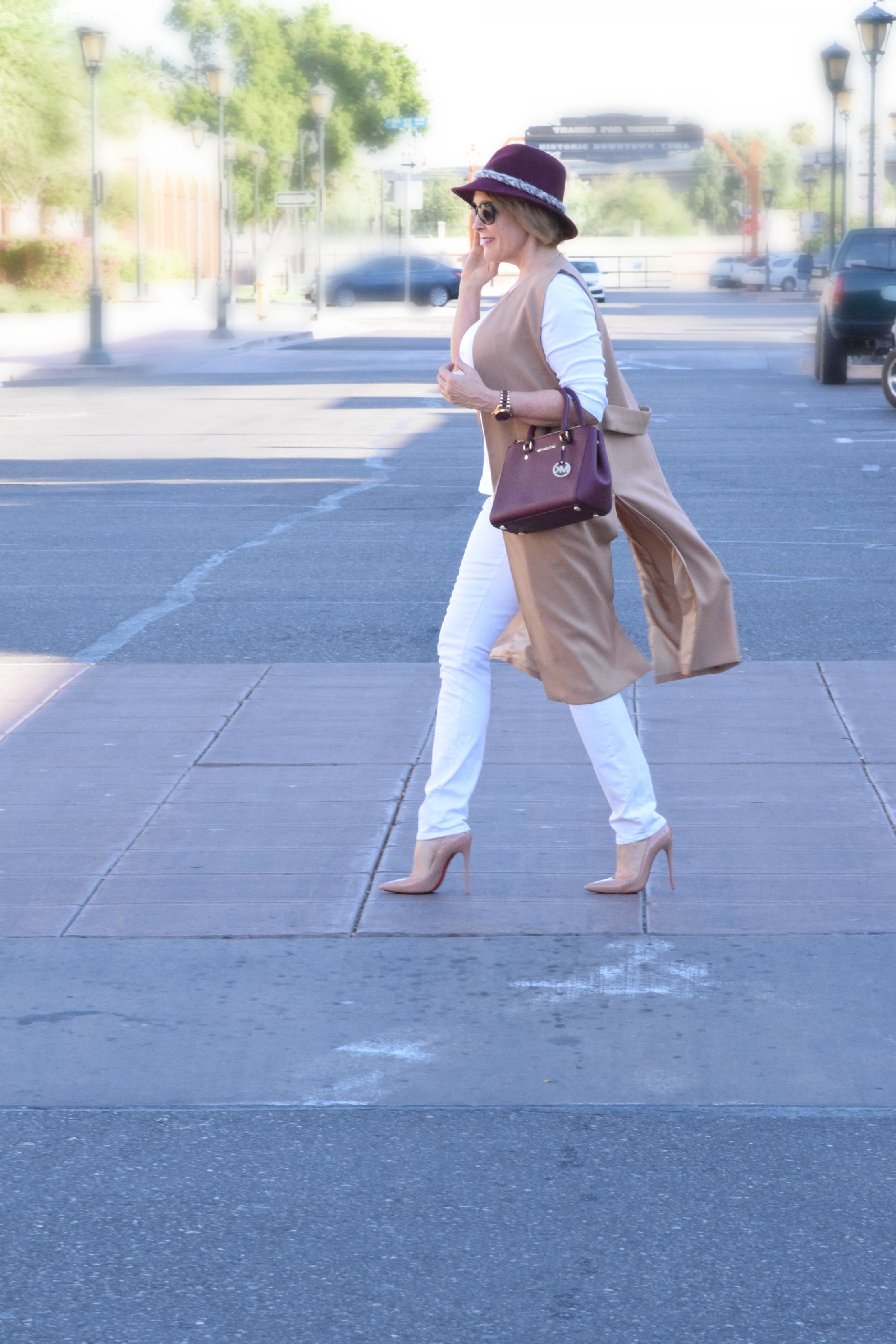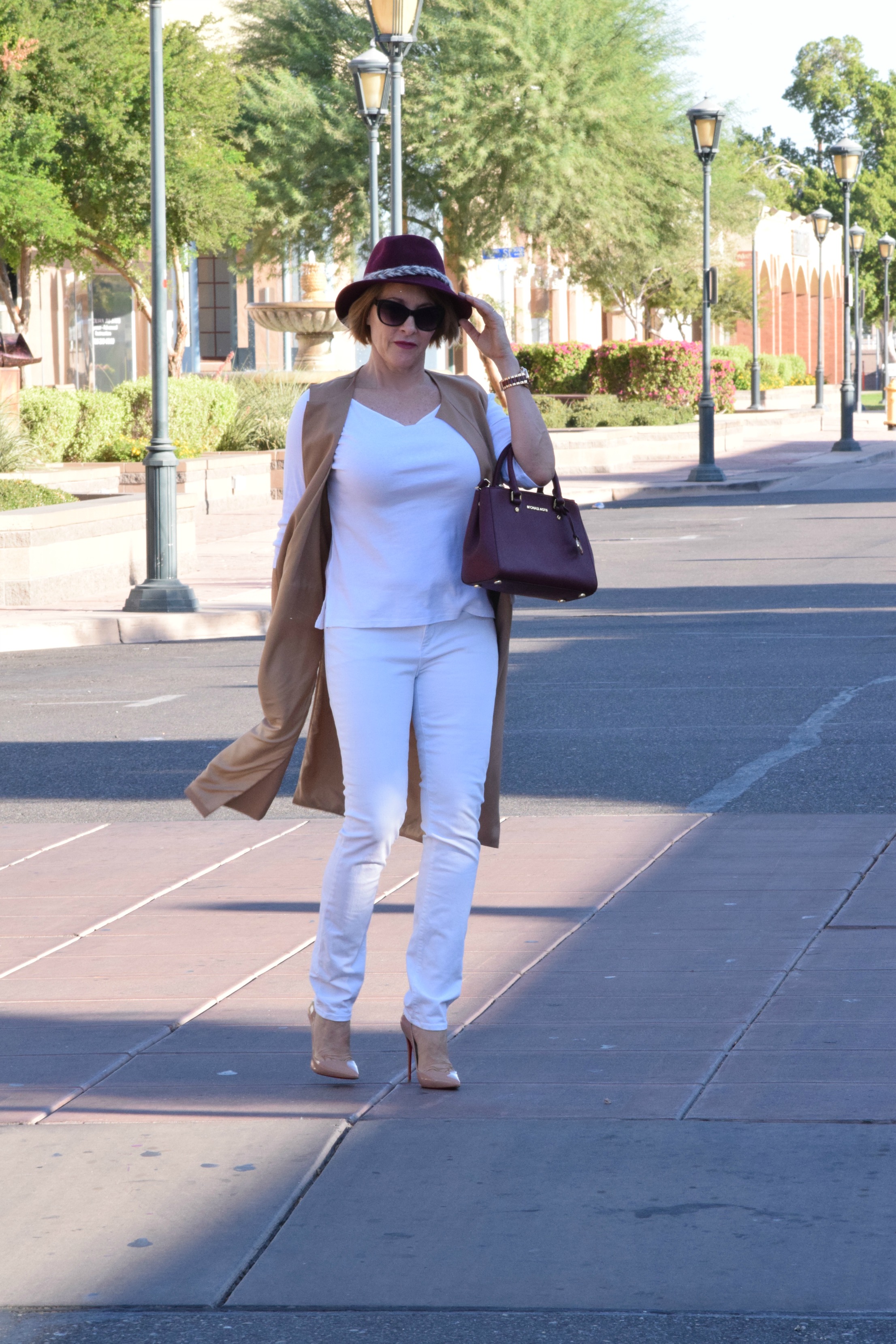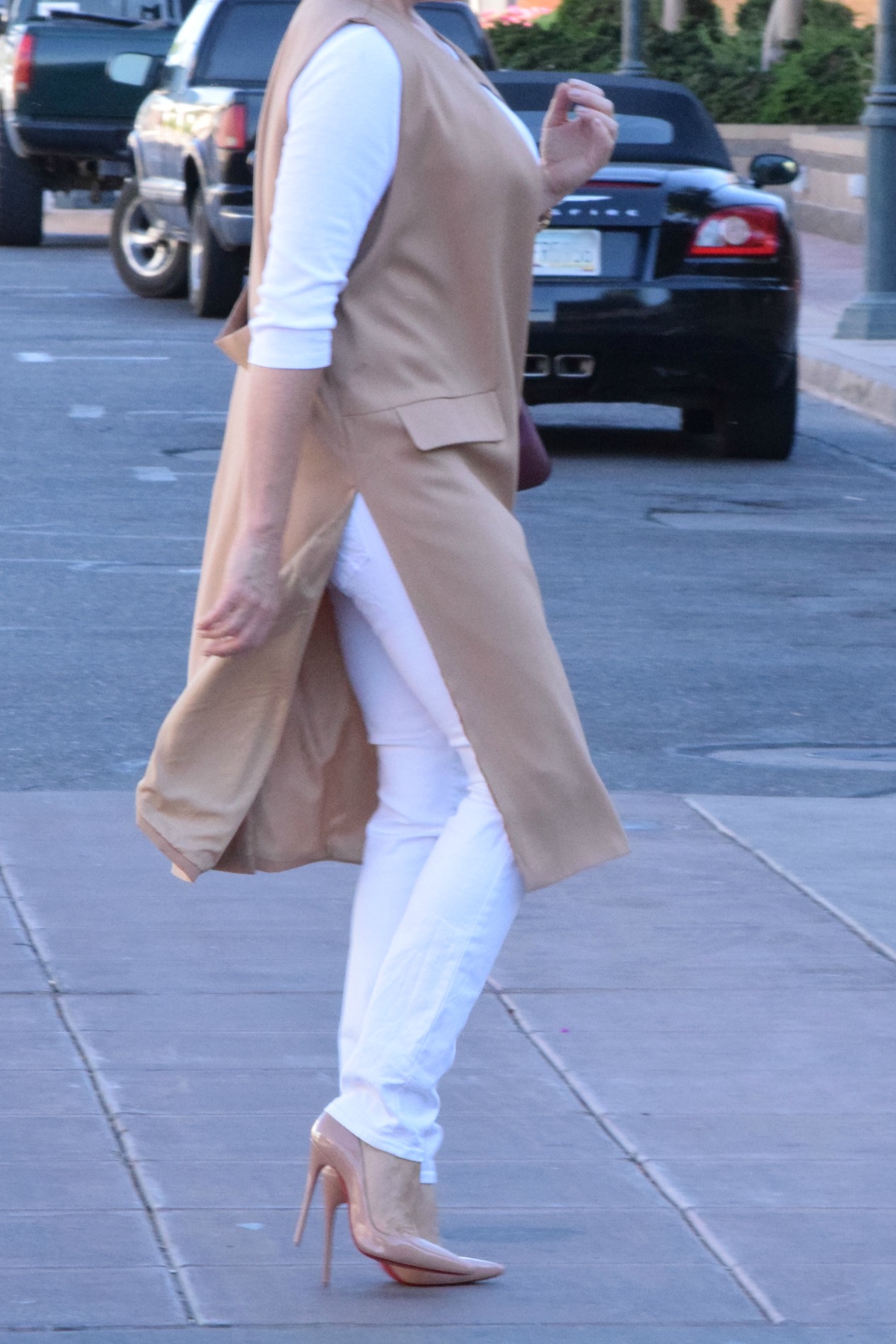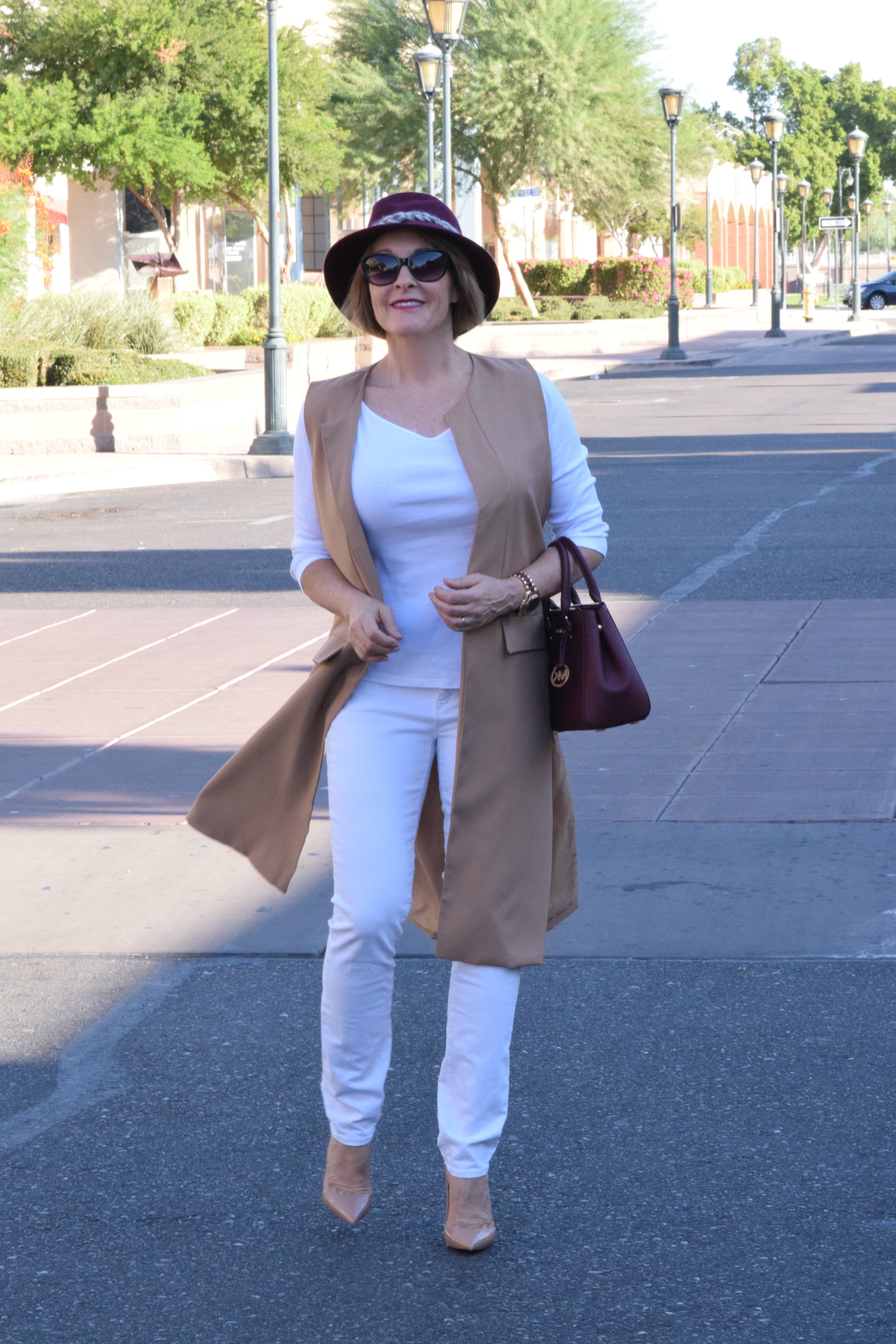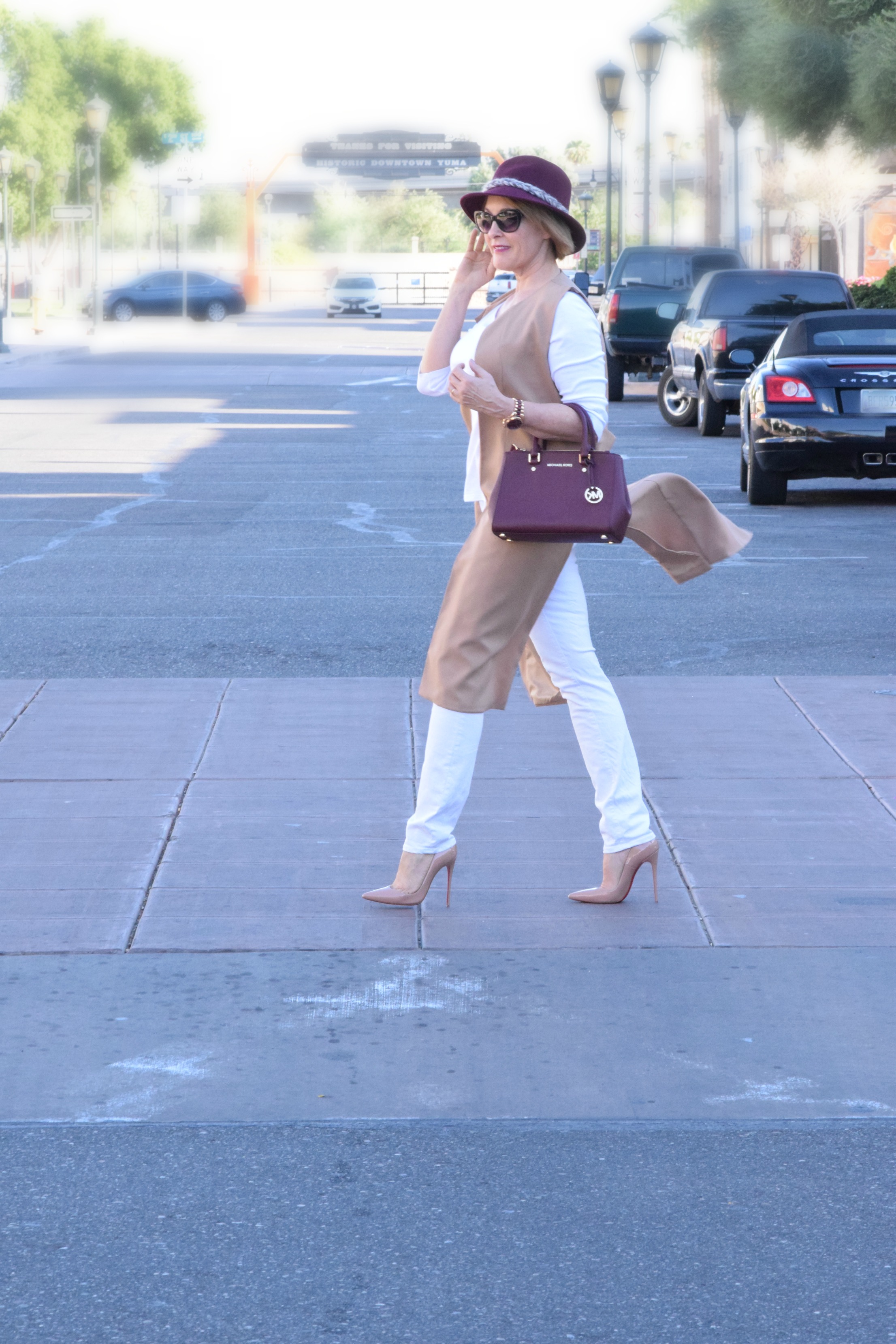 Vest • Shoptiques | Tee •  Ann Taylor | Jeans • Ann Taylor |Hat • Anthropologie (Similar here and here) | Shoes • Christian Louboutin | Sunglasses • Ann Taylor | Bag • Michael Kors | Watch • Michael Kors | Lip Pencil • M·A·C Burgundy | Lipstick • M·A·C Dark Side
It's fall, y'all.  Sorry, I couldn't resist.  Yesterday was the official first day of fall and I'm thrilled.  Honestly I've been looking forward to this season since our temperatures hit triple digits but I'm stunned at how quickly it has arrived.  I know the older we get the faster time seems to fly, but seriously!  The term "whirlwind" seems to capture the speed.  Would you agree?
One of the fun style rules everyone loves to break revolves around wearing white after Labor Day.  I remember my mom retiring my white church shoes in favor of black ones every September.  That was just the way it was.  I wouldn't wear white again until Easter.  Now, with almost rebellious glee, white pushes through September and often well into October.  The only challenge is finding white pieces in fabrics heavy enough to keep you warm.  Well, if you lived in an area that actually got cold.
One of the smoothest ways to transition white into your fall wardrobe is by mixing it with fall colors.  I've chosen all-season tan and pops of my favorite fall color, burgundy.  The combination gives white a definite autumn vibe.  No traces of summer here!  This is one option, but there are so many more.  Black and white is a timeless pairing.  Classic white and navy blue is more autumn-like and less nautical with the addition of burgundy, mustard yellow, or even a deep green.  I think I might have to experiment with some of those ideas.  You can certainly stretch your wardrobe when you forget the old rules and experiment a bit.  We do that a lot here.
Happy Autumn!