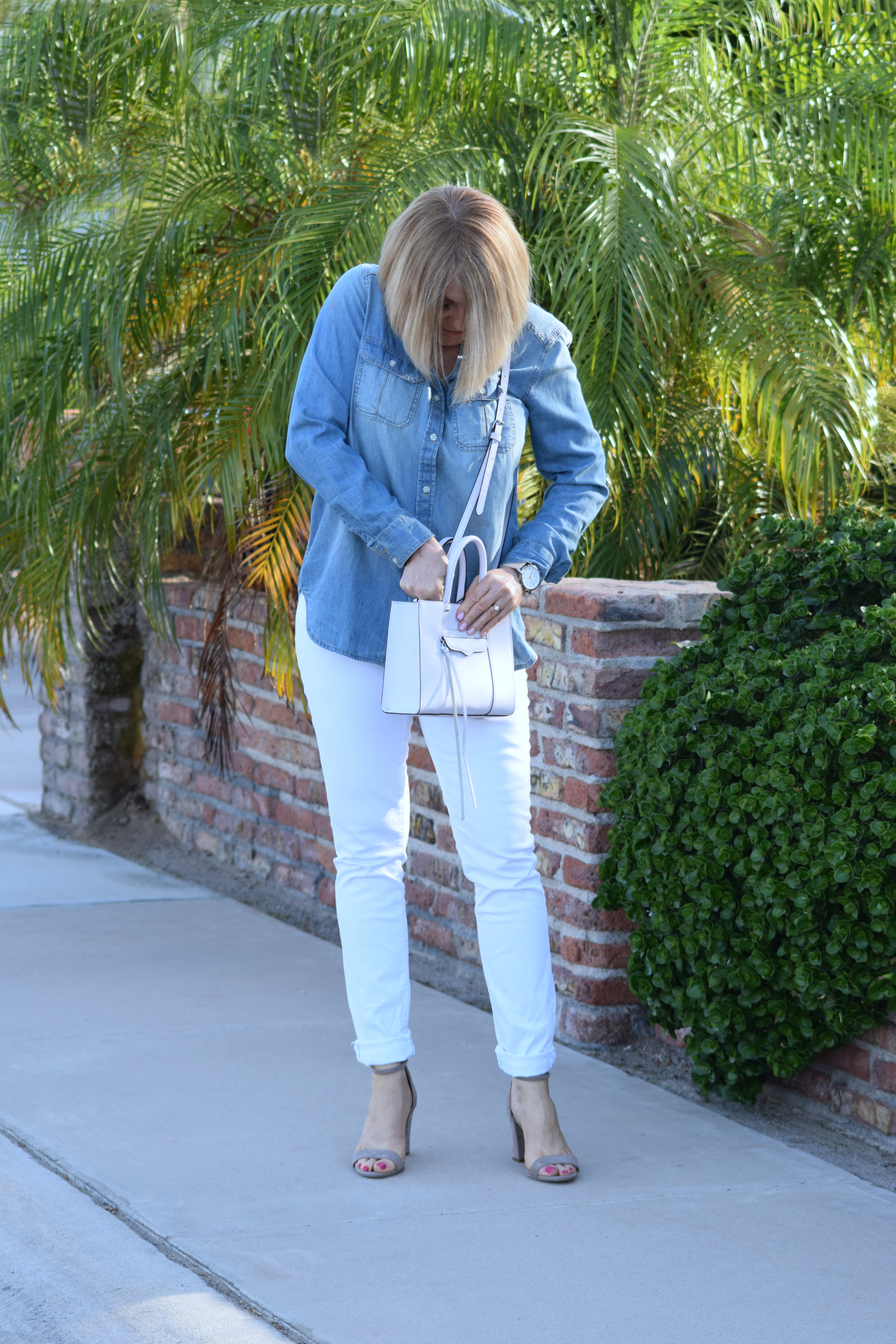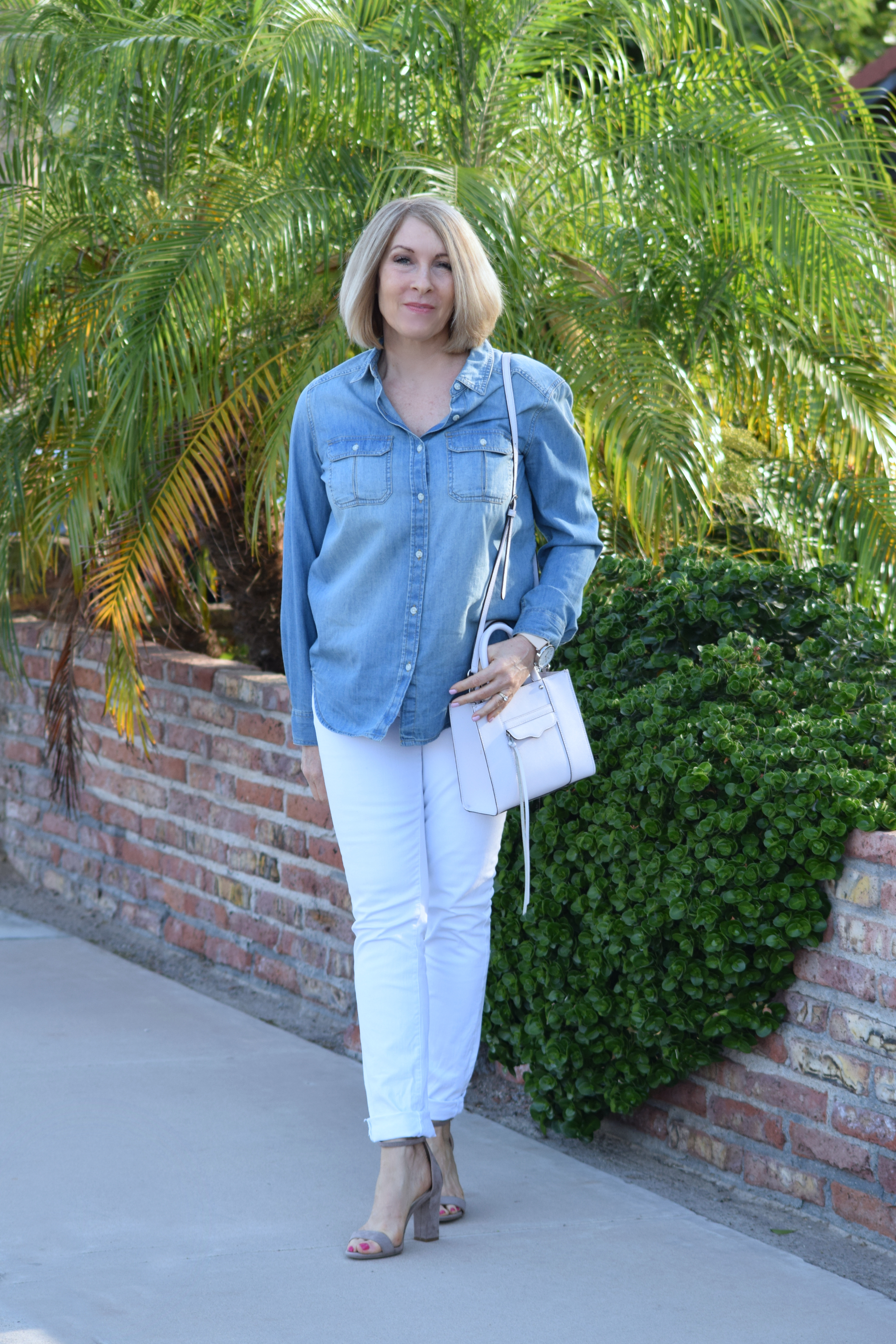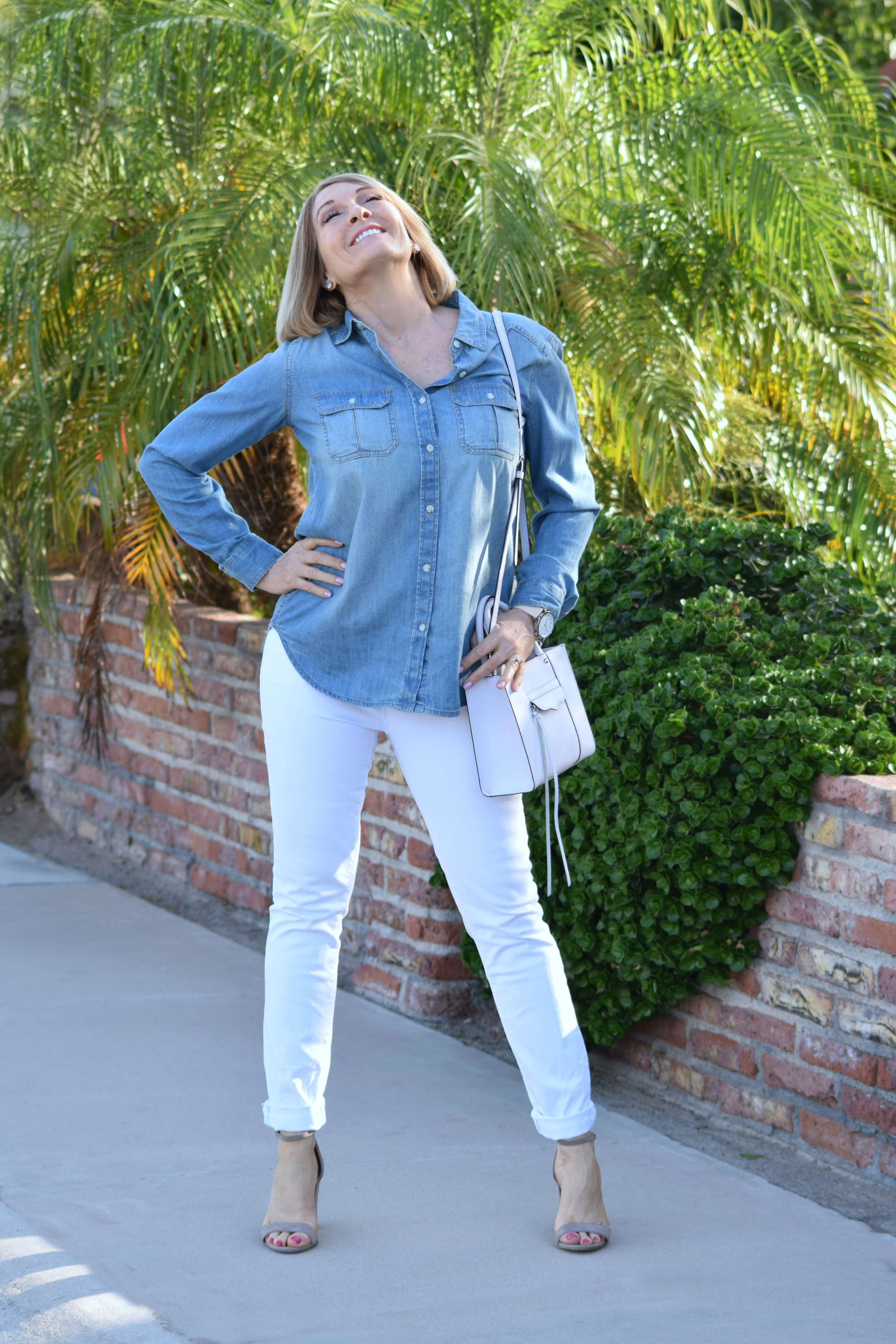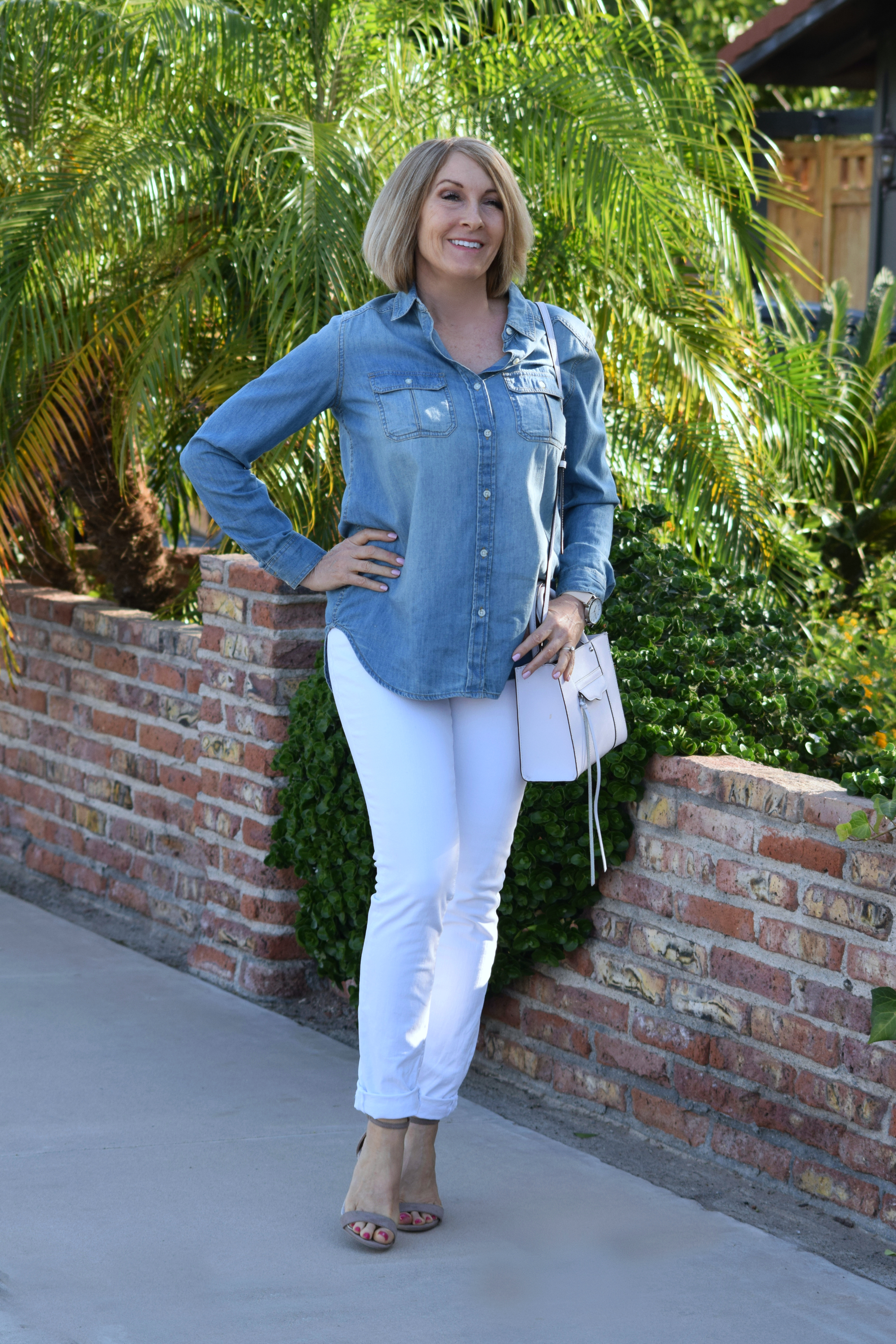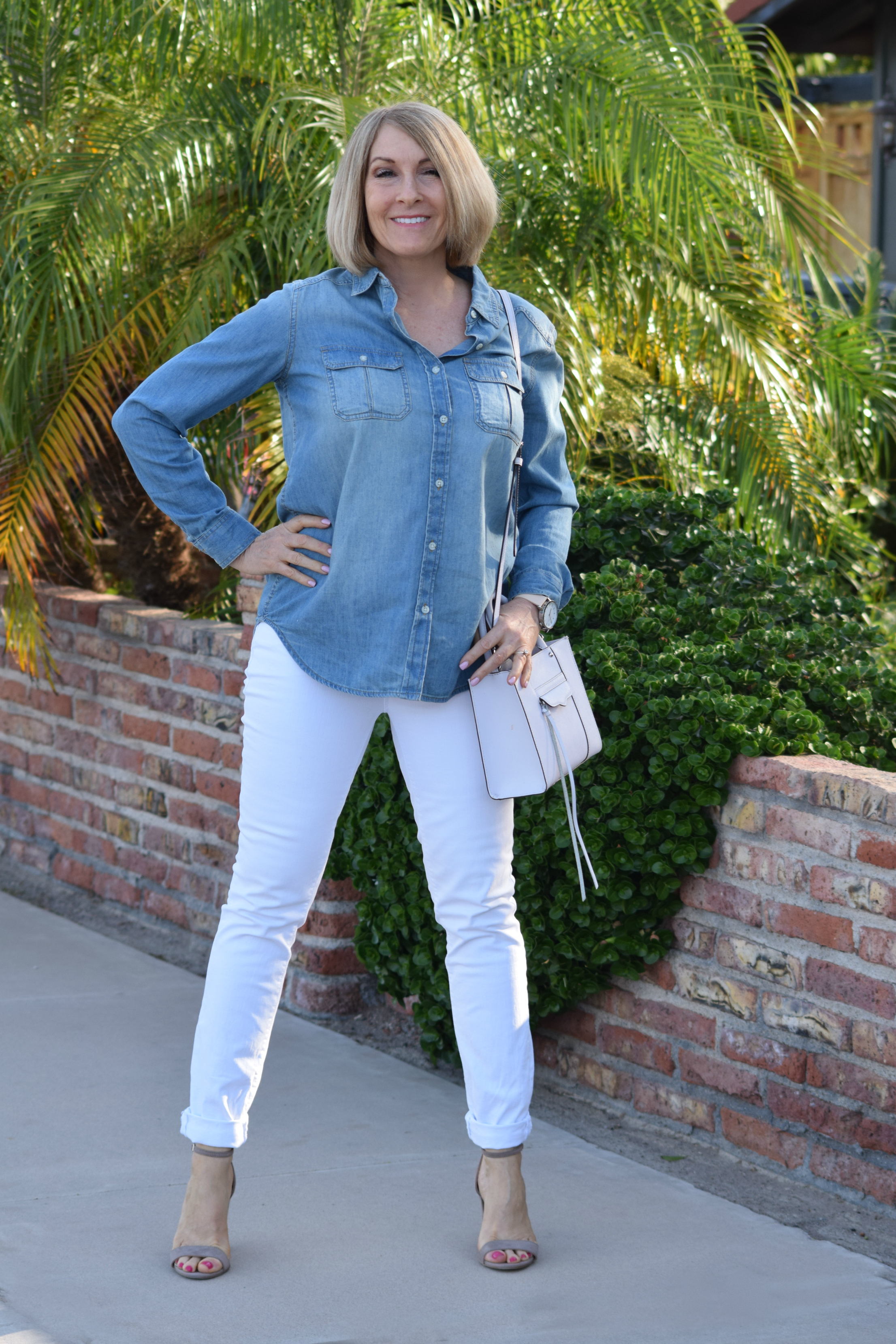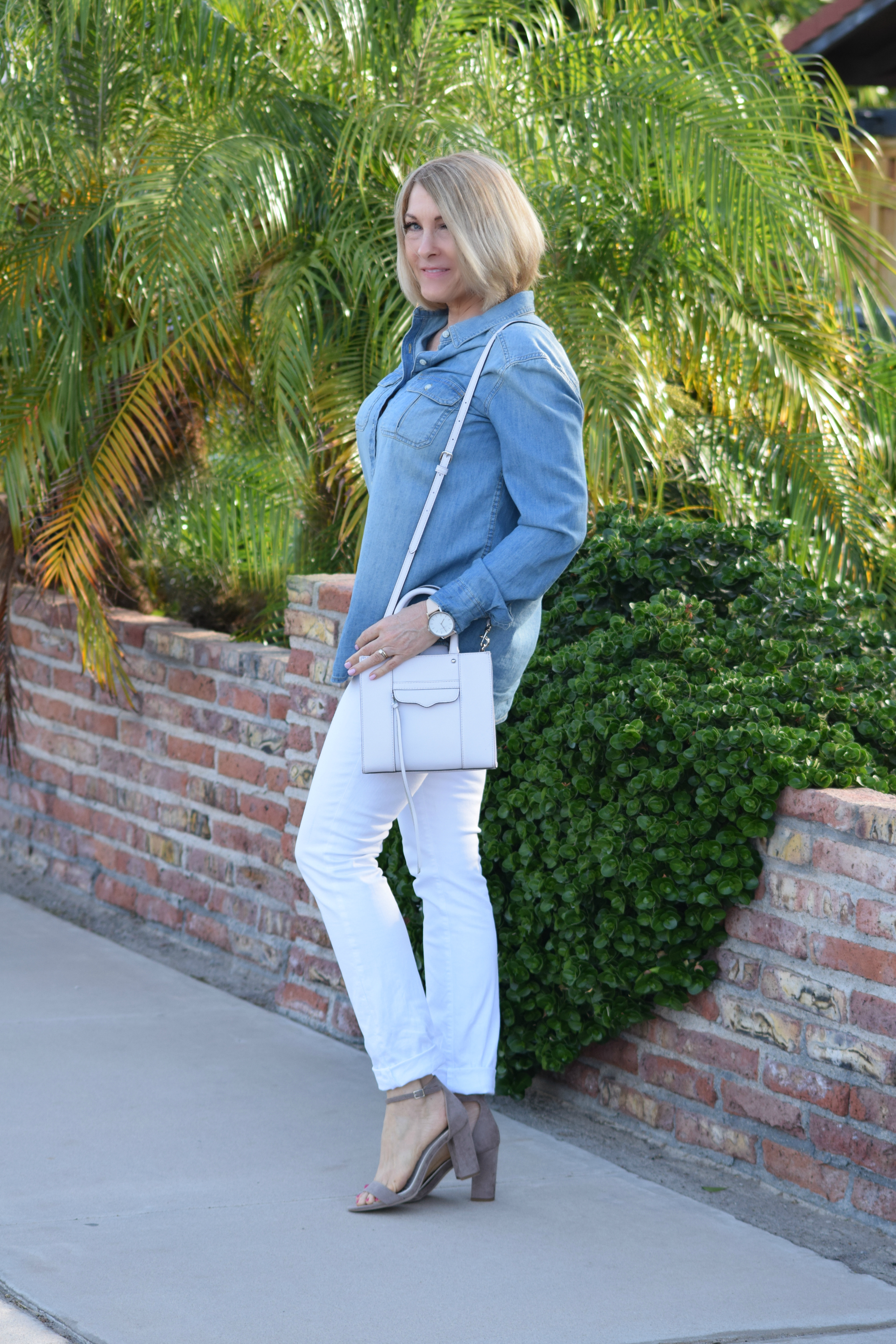 Denim Shirt • Target | Jeans • Ann Taylor (also tall sizes here) | Earrings • Kate Spade | Bag • Rebecca Minkoff, similar here and here | Shoes • Steve Madden | Watch • The Horse
When everything around you is feeling a bit hectic, it's nice to have something simple as a touchstone.  What I mean is, sometimes it's almost a relief to go to the basics.  It seemed as though this weekend was the first I'd spent at home in a while.  We had planned to attend a fun event Saturday night but it was outdoors, the winds were really whipping and Andy has allergies so we opted to skip.  It was actually so nice to hang out at home with a good bottle of wine and just relax.
We did spend a lot of time building ( the neverending story) so I didn't get out to stores to see what's new.  The result?  Shopping my closet and finding that on weekends like these K.I.S.S. works best.  Keep it Simple Sweetheart. What's more simple than white jeans and a denim shirt?
I've also added an item from my first foray in into the block heel jungle: these simple yet versatile beige suede sandals.  I wasn't sure about suede vs. smooth leather but the price was right (under $50) so I thought I'd give it a go.  I found mine on Amazon and then discovered a really pretty blush color here which I like even better.  Live and learn.
Our current building project is still the front courtyard.  Almost everything is finished.  In fact, we've been doing a little entertaining out there.  We get the fountains going and it's the most peaceful place to sit and chat.  Or just be. We are still working on a built-in bench we're incorporating into a large pergola (aka "The Gazebo").  Andy is engineering the bench (he's actually designed the entire structure) and it's taking quite a bit of thought.  I told him what I envisioned  (I want it to appear to be floating) but it also needs to support about 1,000 pounds and it's all made of redwood.  Oh, and we don't want any hardware to show.  Simple?  Yeah, not so much.  But the weekend was productive and I'm starting the week feeling as though we're making progress.  That always makes me happy.
Thanks for stopping by!