Needing something easy for summer?  Go for more linen!  You know how much I love "convenient clothing" and this J.Jill linen dress certainly passes muster. It's one you can throw over your head and run out the door for all types of occasions all summer long.  I also added this cute J.Jill bag and these slip-on sandals (they're less than $7!) for an easy, breezy summer look.
I really needed convenience when we shot these photos.  If I look stiff and strained it's because I had strained my neck so badly I couldn't look from side to side.  I also couldn't hold my head up very well, which is why I'm "posing" with my hand behind my head.  I'm literally holding my head!  I missed a couple days of work, mainly because I couldn't drive.  My range of motion was so limited I couldn't see any side traffic.  Much too dangerous to risk it!
Back to the dress, I have an idea or two to style it differently, but I couldn't see past something this easy and basic, again all thanks to the neck strain.  It was so painful! Now that I'm feeling a bit better, I think I'll risk posting this dress again in a few days with those variations.  Meanwhile, you can enjoy 30% off on the linen dress, straw bag, and everything else on the J.Jill site using code MAY18!
Happy Friday!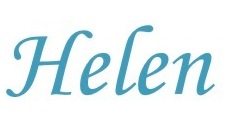 Thank you, J.Jill, for sponsoring this post