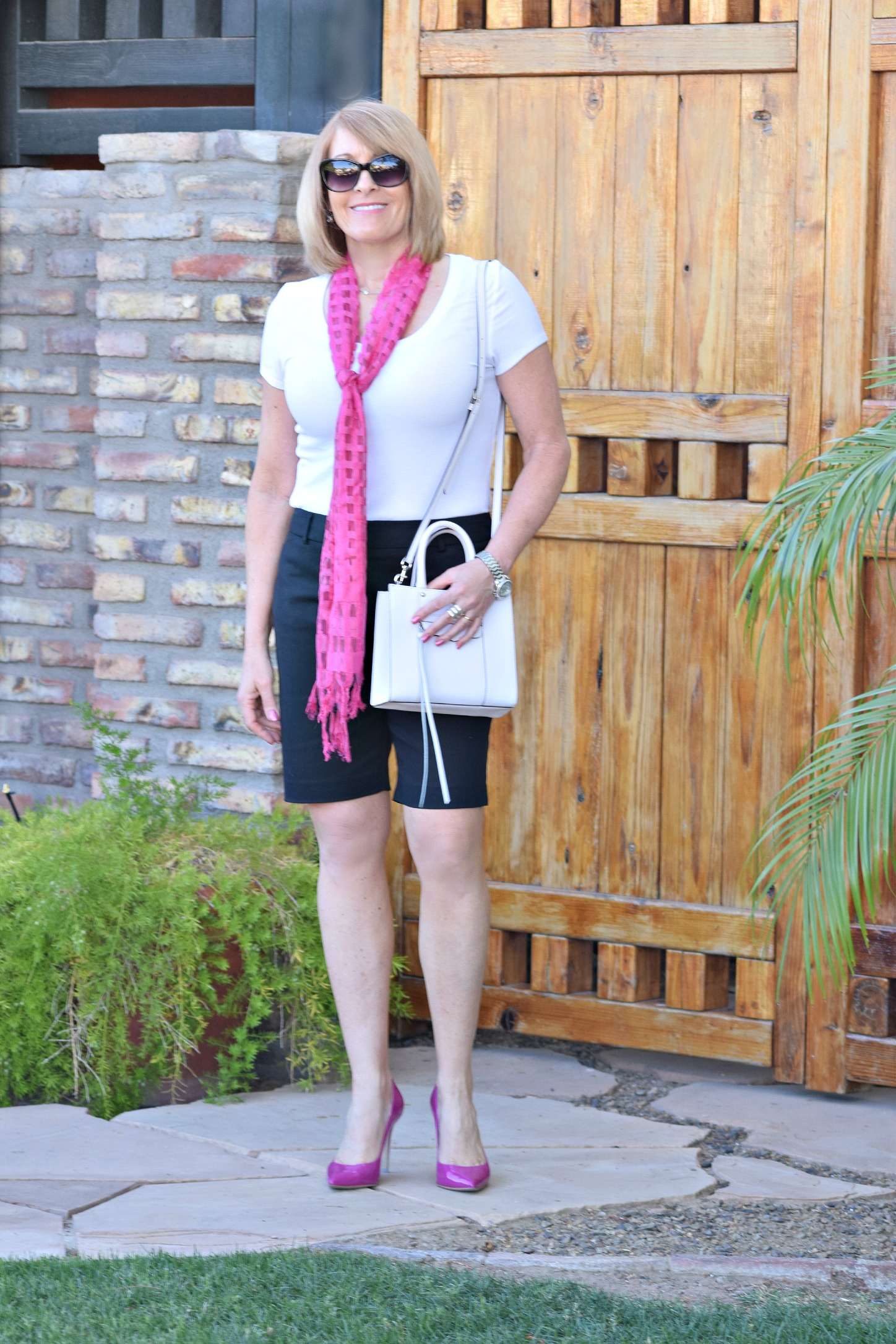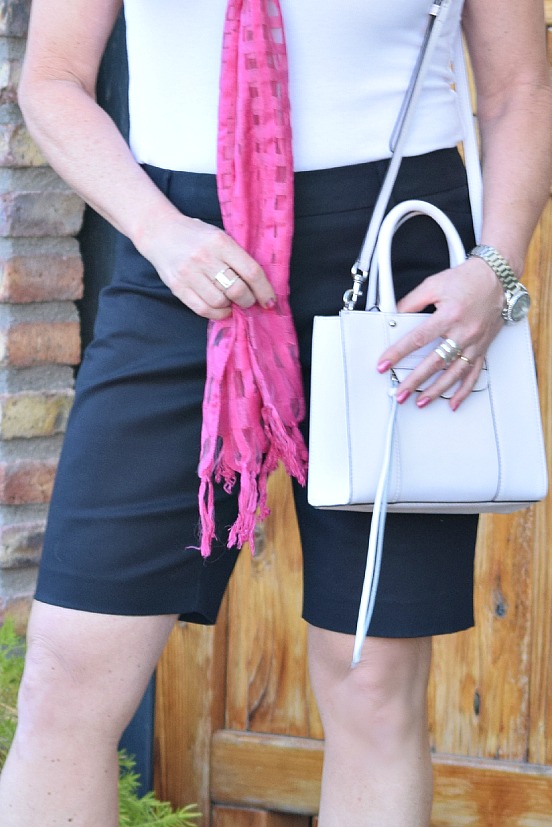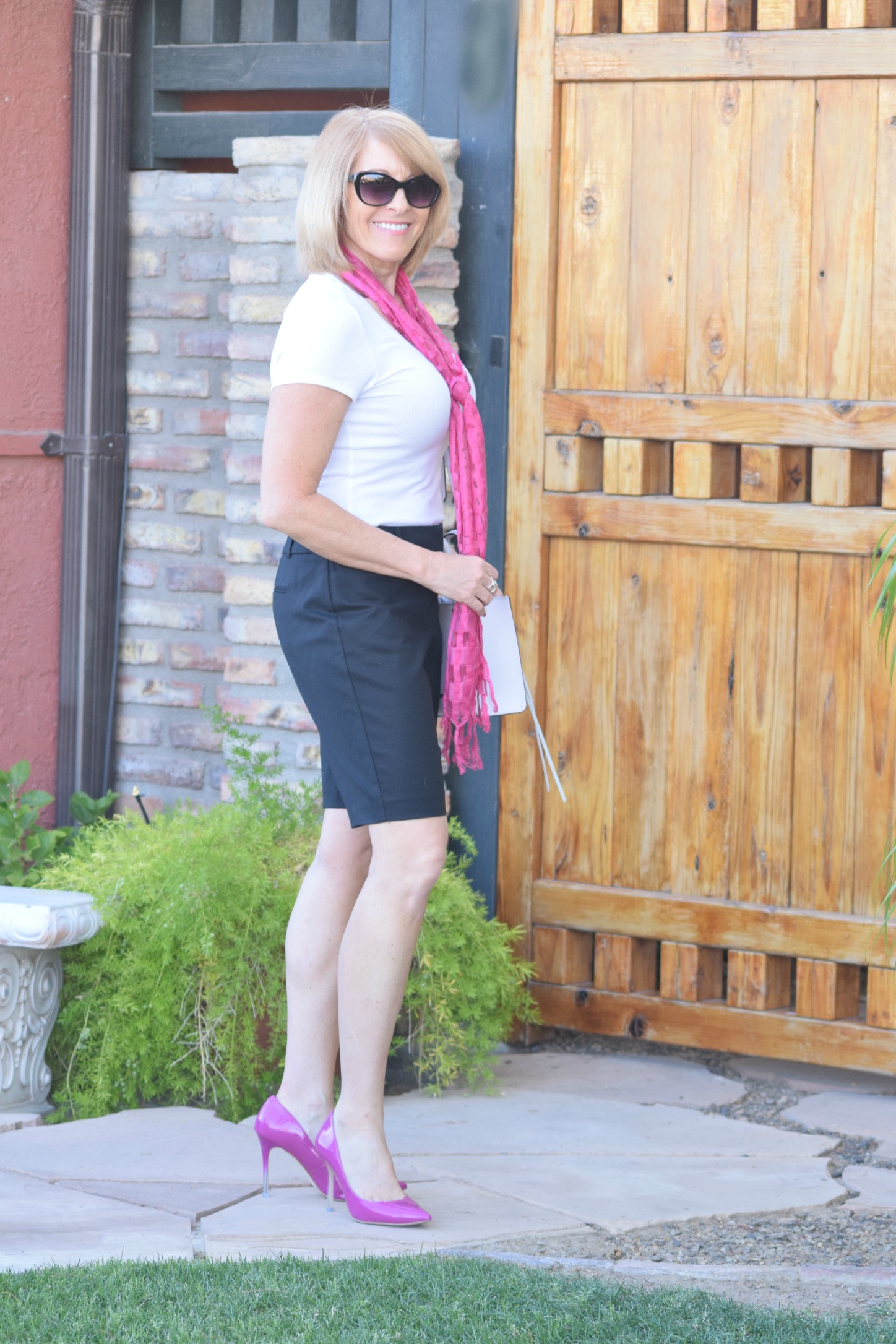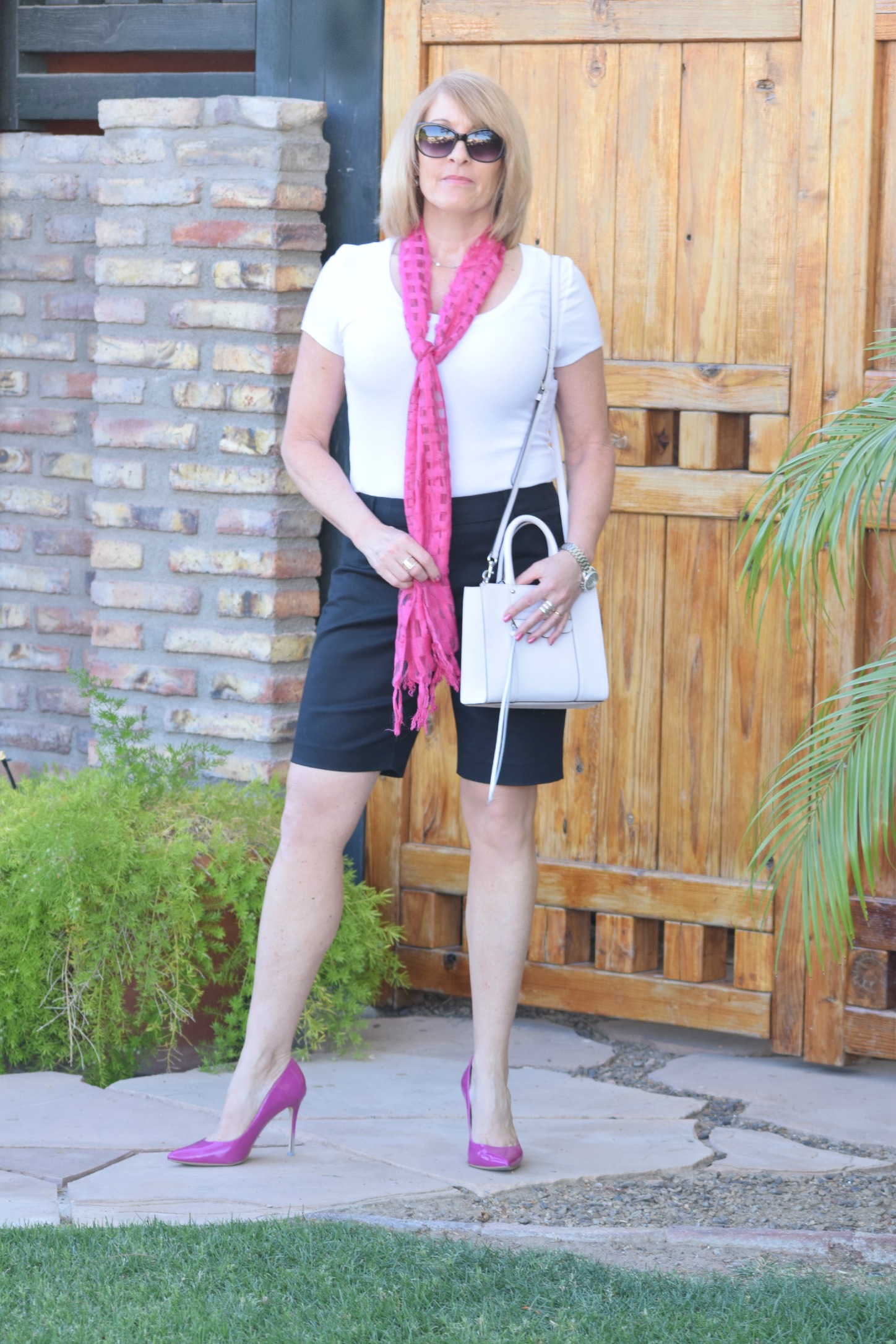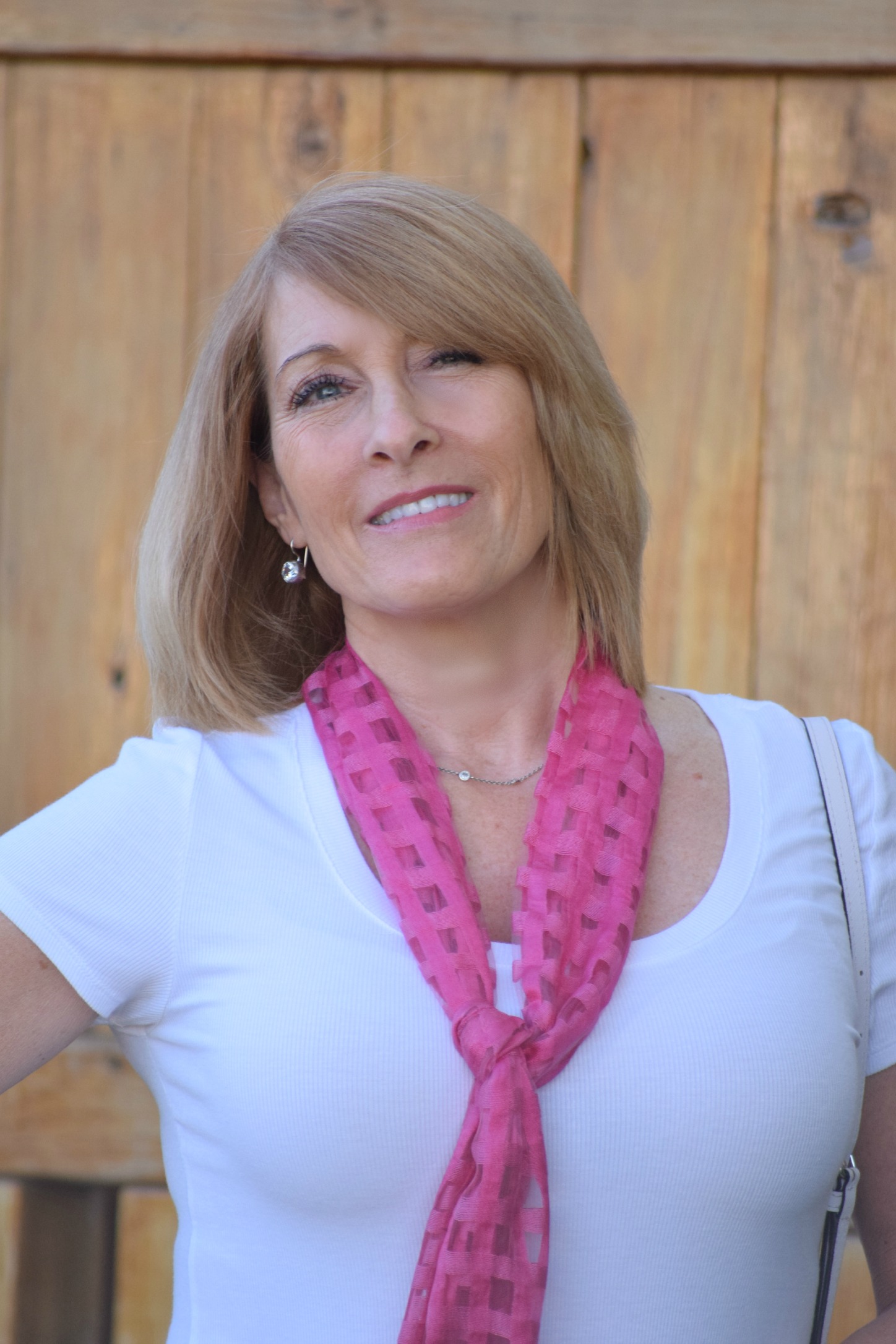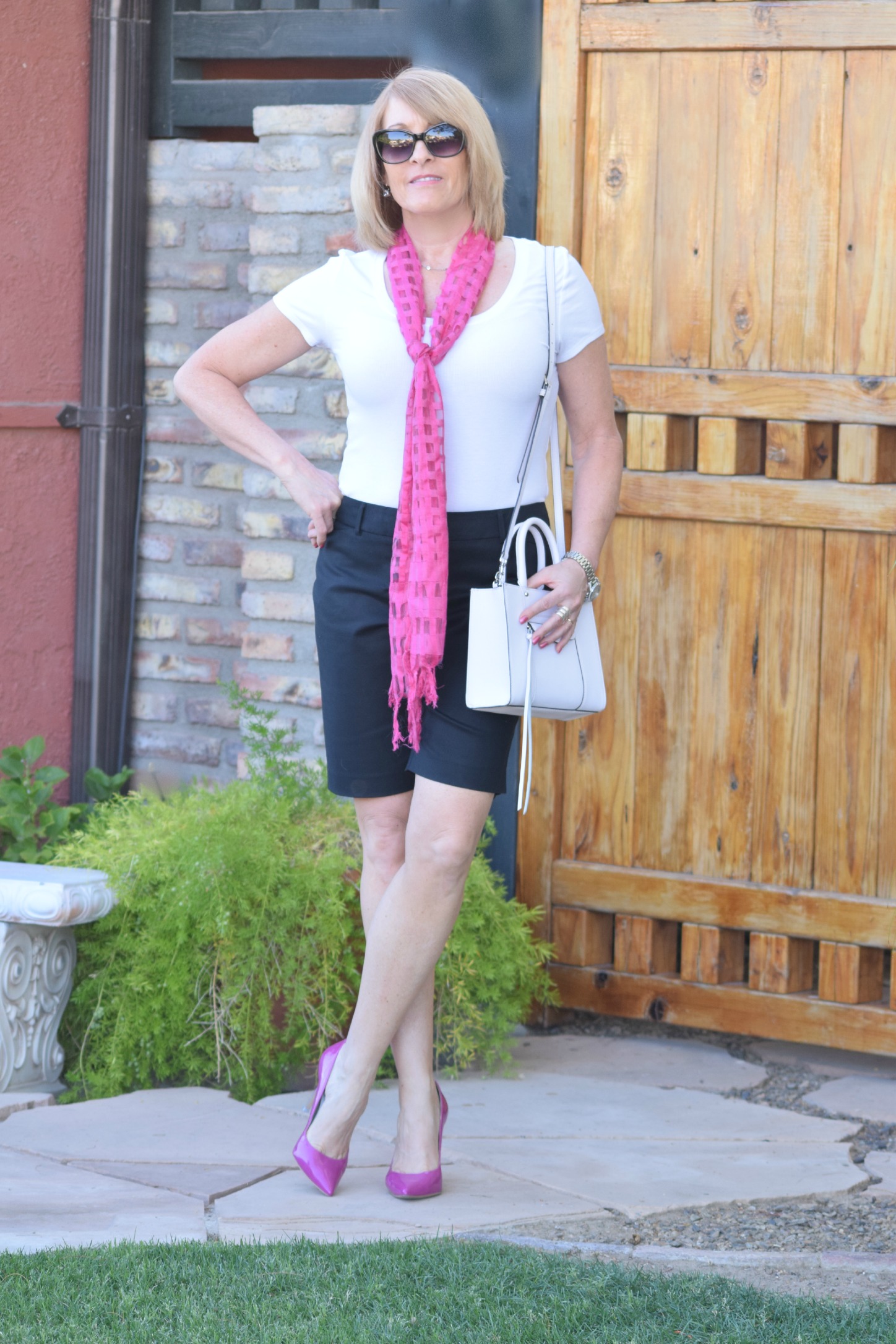 Top • Kohl's | Bermuda Shorts • Kohl's | Shoes • BCBGeneration, sold out, similar here
and here | Bag • Rebecca Minkoff | Mini-Size Blair Watch • Michael Kors | Jewelry • Silpada, Rings, here and here, Necklace and Earrings | Sunglasses • Ann Taylor
Scarf • The UMC boutique, similar here and here | Lipstick • Lancôme Sugared Maple | Lip Gloss • Cover Girl Berrylicious
Happy Monday Everyone!
Last Friday Andy and I went to Tucson for his annual oncology check-up.  He's been out of chemo and cancer-free for almost sixteen years now!  His doctor, Rick Ahmann, is fantastic.  If you ever need an oncologist (I hope you don't), Dr. Ahmann and the University Medical Center in Tucson have been very good to us.
Every year while Andy checks in and gets started on his lab work, I pop into this cute little boutique and gift shop at the Center.  As you can imagine, it is full of all kind of cancer survivor accessories, from T-shirts to coffee mugs.  But they also have interesting jewelry and other items not necessarily related to fighting cancer.  I picked up this pink scarf and another in white.  Yes, I know it's pink, but it's not pink.  It actually comes in several different colors.
I like this scarf because it's not at all bulky; it's purely for adding interest to an outfit.  ( I wish I could have found the exact same scarf online.  The ones I linked are a little thicker, but at this point I was trying to find the bright pink.) I paired it with simple, black Bermuda shorts and a white tee for interest.  An unexpected benefit: if you're a little thick in the middle, like me, the attention is focused away from your waistline and right onto the scarf.  I like that!
I'm off to the airport for my trip to visit family.  Have a wonderful day!