When you're wearing dots and seeing spots you'd better stop and take some pictures!  At least, that was my philosophy the other day when I spied this new wall around town.  Someone was brilliant and created a few different back drops to add a little zing to a plain wall.  I couldn't resist!
My cute Chico's pants are also really comfortable with a great fit.  You know how much I love those charateristics!  They have the perfect amount of stretch in the fabric and the polka dots are, well, polka dots.  Between the cut and the pattern you get a mix of chic and whimsy – perfect when you want to look put-together without seeming too serious.
You may have noticed a little change to the blog this week.  I decided to change things up a bit with a different look.  I wanted something cleaner and less cluttered.   I'm also experimenting withe the placement of things within each post.  What do you think?   I'll probably play with the format a bit more over the next few posts until I find what feels like the perfect mix and I'd love to get your feedback.
Thanks for reading!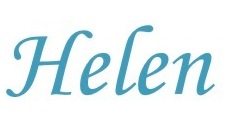 Shirt • here, and here  | Pants • Chico's, similar here | Bag • Rebecca Minkoff, also here | Shoes • Calvin Klein, similar here | Hat • Nordstrom, others here and here | Lipstick • MAC Red Lip Kit, or Lip Liner • MAC Ruby Woo | Lipstick • MAC Ruby Woo