Every once in a while I'll post an outfit on Instagram that resonates with my daughters. They may hit "like" on a post, but rarely do they comment. If I get two comments from my girls – well, that's an event.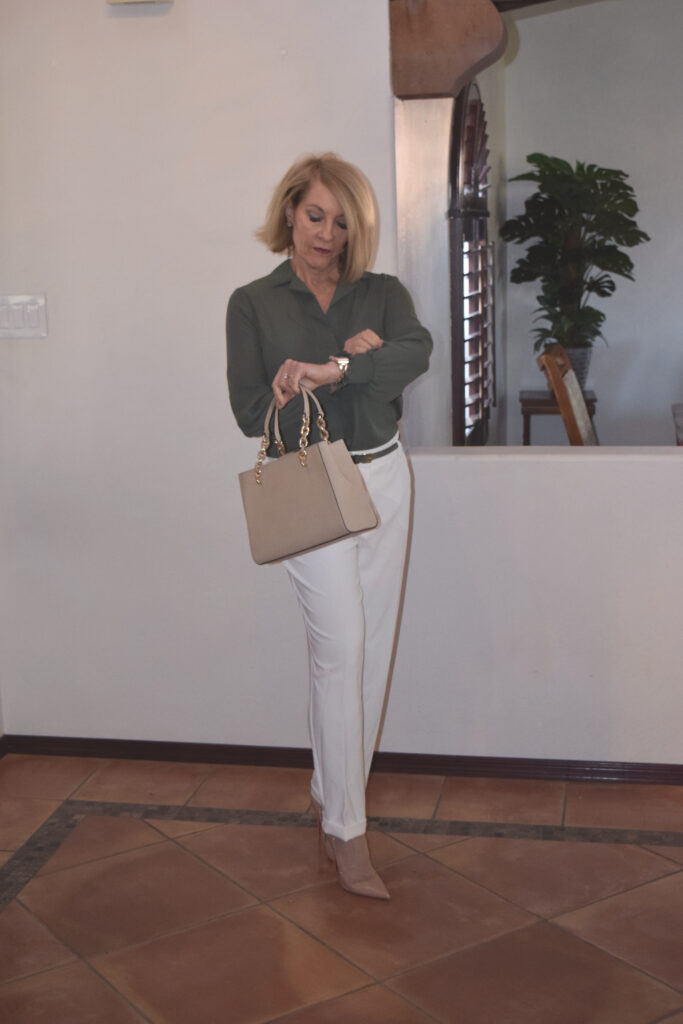 This outfit got a "SO CHIC" and a heart-eye emoji by my girls, followed with a phone call with the suggestion I buy more outfits like this. 🙂 Who new a shirt and slacks could elicit such a response?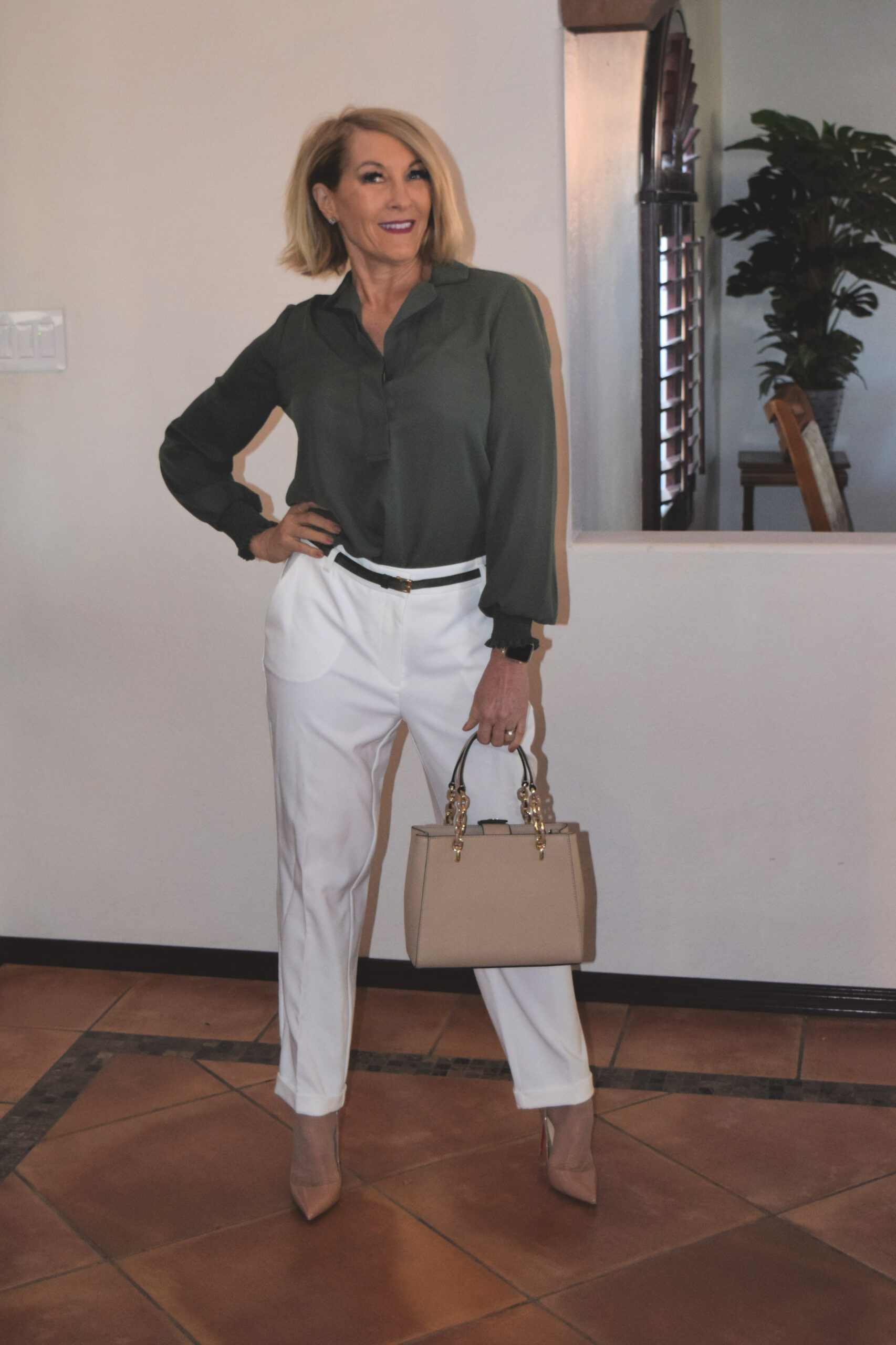 What one daughter liked was the loose, trouser-like fit. I avoid pleated pants because they add bulk around the middle, and who wants that? These slacks work because they have a slightly draped appearance without excess fabric. The combination of fabric and cut creates the effect as well as the fact that I sized up. Why would I do that? To be honest, I've seen tight, light-colored dress slacks on women and the result is not attractive.
Don't let the siren song of a smaller size lull you into purchasing something that doesn't flatter you. Wear the size that creates the look you want, not the size that you can squeeze into. Except for my old Levi's 501s, most pants don't broadcast their size for the world to see, so choose the number you look best in. Cut the tag out if it bothers you.
If you have to lay on the bed to zip up that size 6, you're only fooling yourself. You've seen the woman who's done that and you know the result. Don't be her. 🙂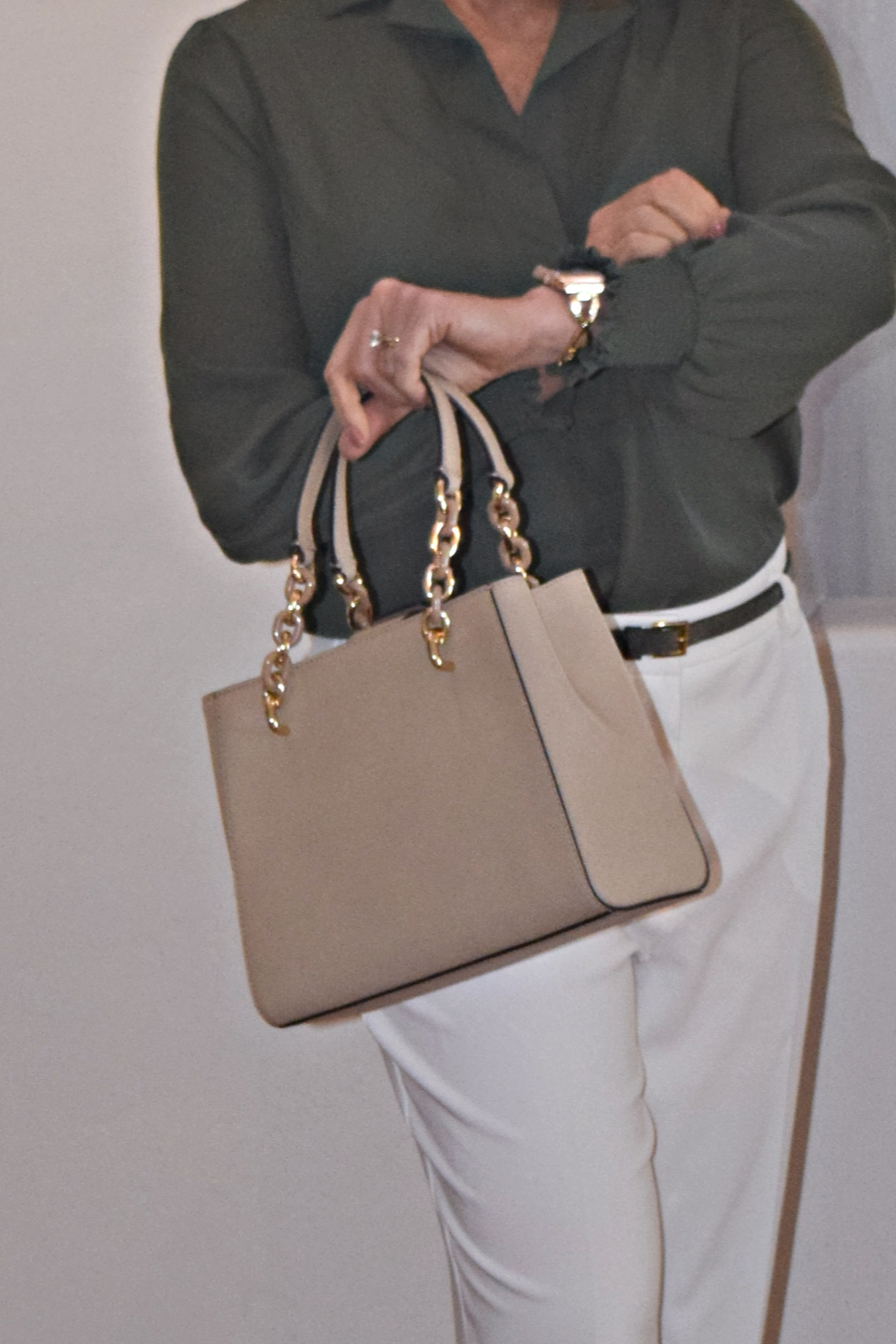 I finished the look with a tailored bag and sleek pumps, so the overall vibe is clean and chic. Maybe the girls are right – I'll look for more outfits like this. Side note – these pieces, sans shoes, are permanently reduced at Dillards!
On a side note – it feels good to get back in the swing of posting more regularly. We didn't get creative with the backdrop for the most recent round of looks. They're all shot in the entryway of our home. Time was limited and getting some things ready to show you was a greater priority than finding pretty scenery. Such is life!
Happy Wednesday, my friends. I hope your week is going fabulously!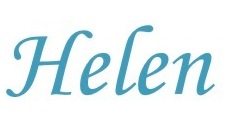 Gibson & Latimer Pants | Gibson & Latimer Blouse | Michael Kors Bag – similar | Christian Louboutin Shoes (I linked the Pigalle Follies shoe, which has a slightly lower heel than So Kate shown in the photo) | Apple Watch | Gold Apple Watch Band