There is something really chic about a winter white suit. I remember a photo of a model stepping out of a car in a beautiful, long, winter-white coat over a white suit. Stunning. Maybe not practical, but isn't it nice to be impractical once in a while?
White isn't the color you necessarily think of when you want a visually slimming look, but if you follow a few guidelines you'll get the effect you're looking for.  The right combination of style, fit and fabric is imperative.
Regarding style, choose a cut that worls with your body type.  I'm far from Amazonian, so simple, clean lines look best on me, giving the appearance of height I don't have.
Fit is always important, but never more so than with white.  It's better to go one size larger so the fabric drapes.  Tight, white clothing will show every dimple and roll, even those you didn't know you had.  If going up a size bothers you, cut the tag out and enjoy the more flattering look.  Trust me on this.  My suit is at least one size too big but certainly doesn't add extra pounds.
Finally fabric.  Normally a better fabric means a better look, but try on suits at diffeent price points.  Sometimes a less expensive outfit turns out to be more flattering for your shape.  You may have to spend some time in the dressing room to find the right match, but the result is worth it.
As with any color, a monochromatic ensemble  creates a long, lithe look.  Even an accent color won't break the line if the style, fit and fabric work on your body.  In the case of winter whites, tailored lines look best on me.  You may be able to get away with more embellishment and detail.  With the right combination, the only thing you'll have to worry about is keeping clean!
Happy Monday, Beauties!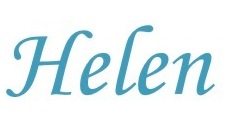 Preston & York Jacket  |   Preston & York Pants  |  Camisole  |  Necklace, similar here  |  Christian Louboutin Pumps  |  Sunglasses, similar here (mine have a blue lens which appears to be discontinued.  The pair I've linked has a smoky brown/bronze lens I really like, for less than $15!)  |  MAC Lipstick in Hangup