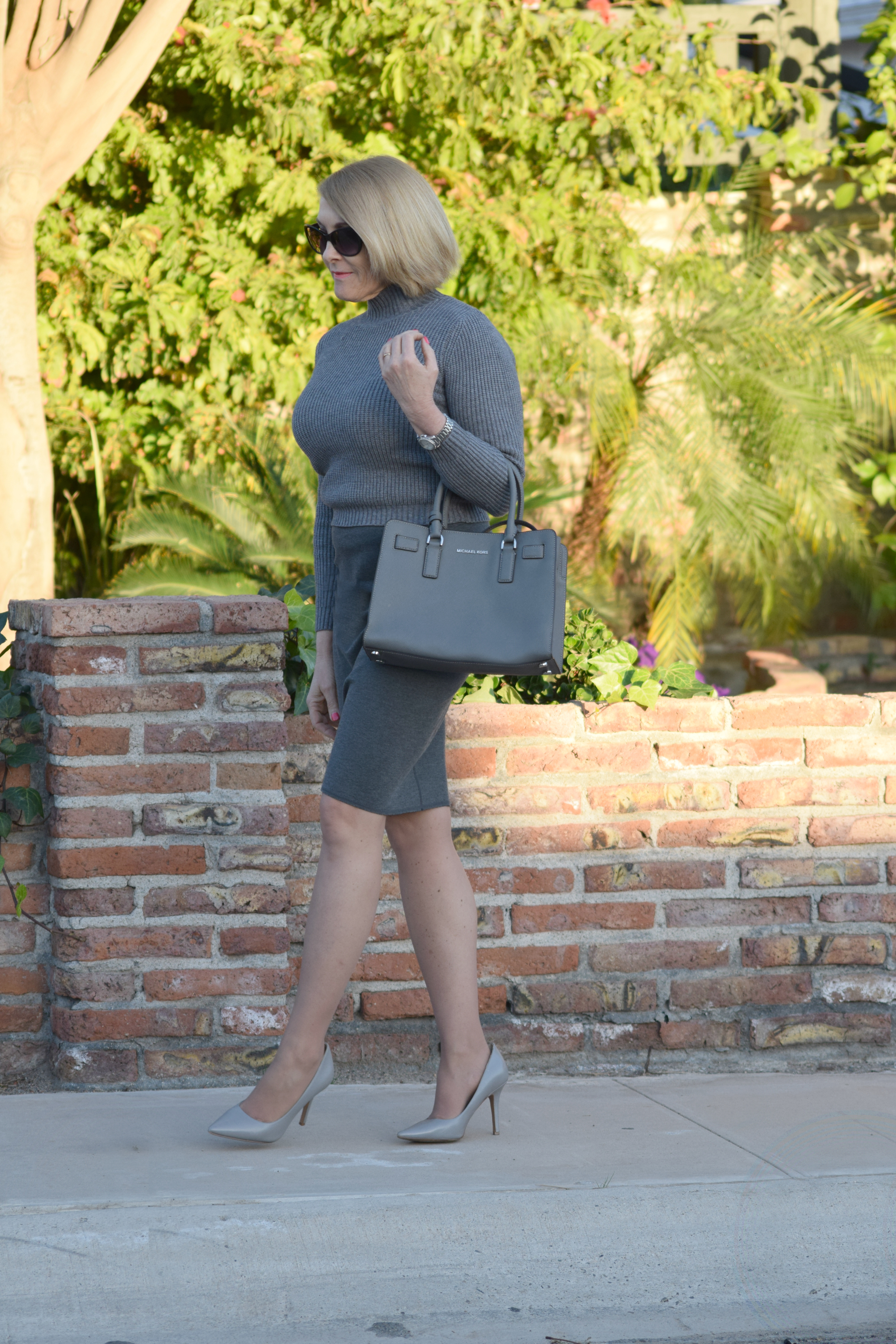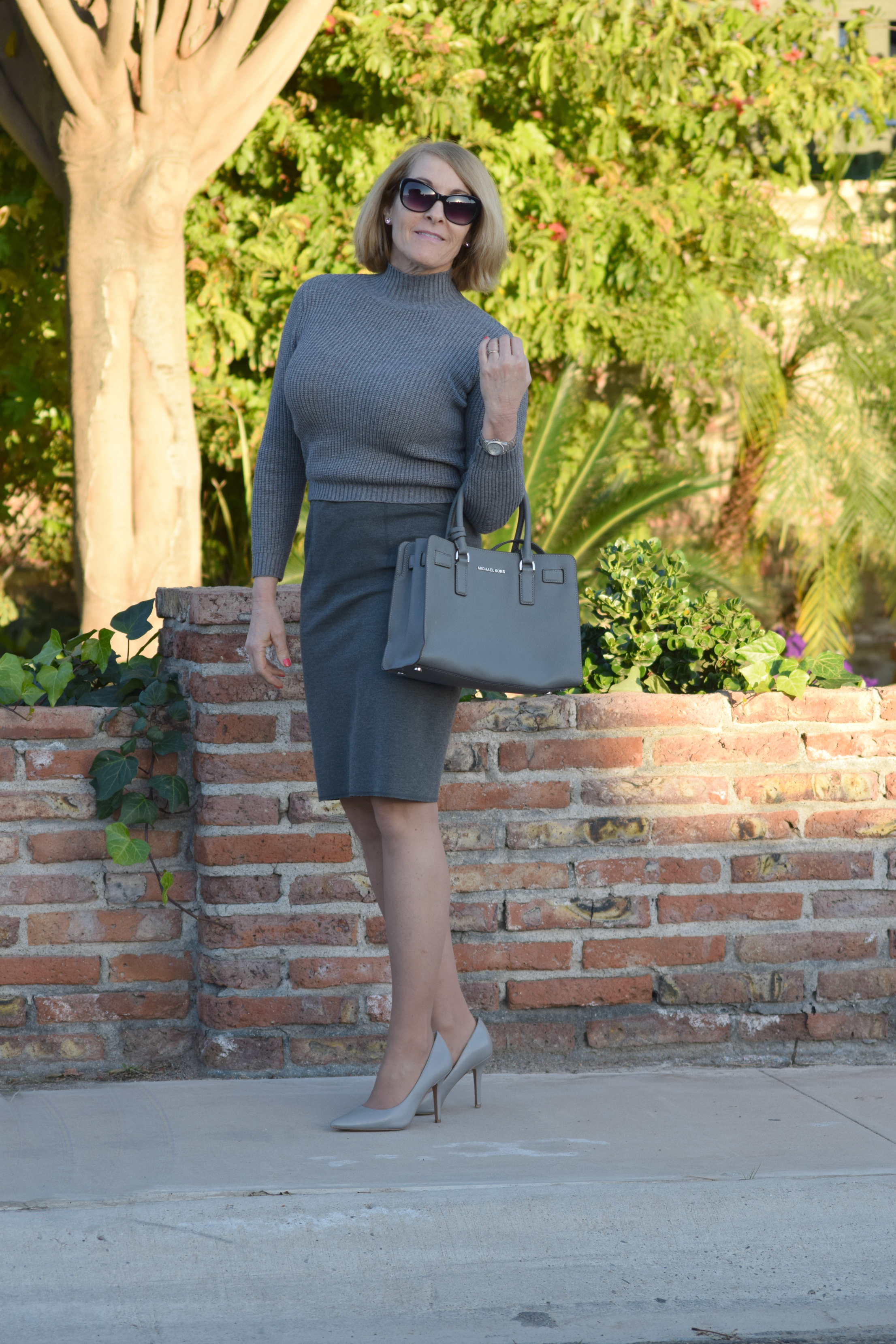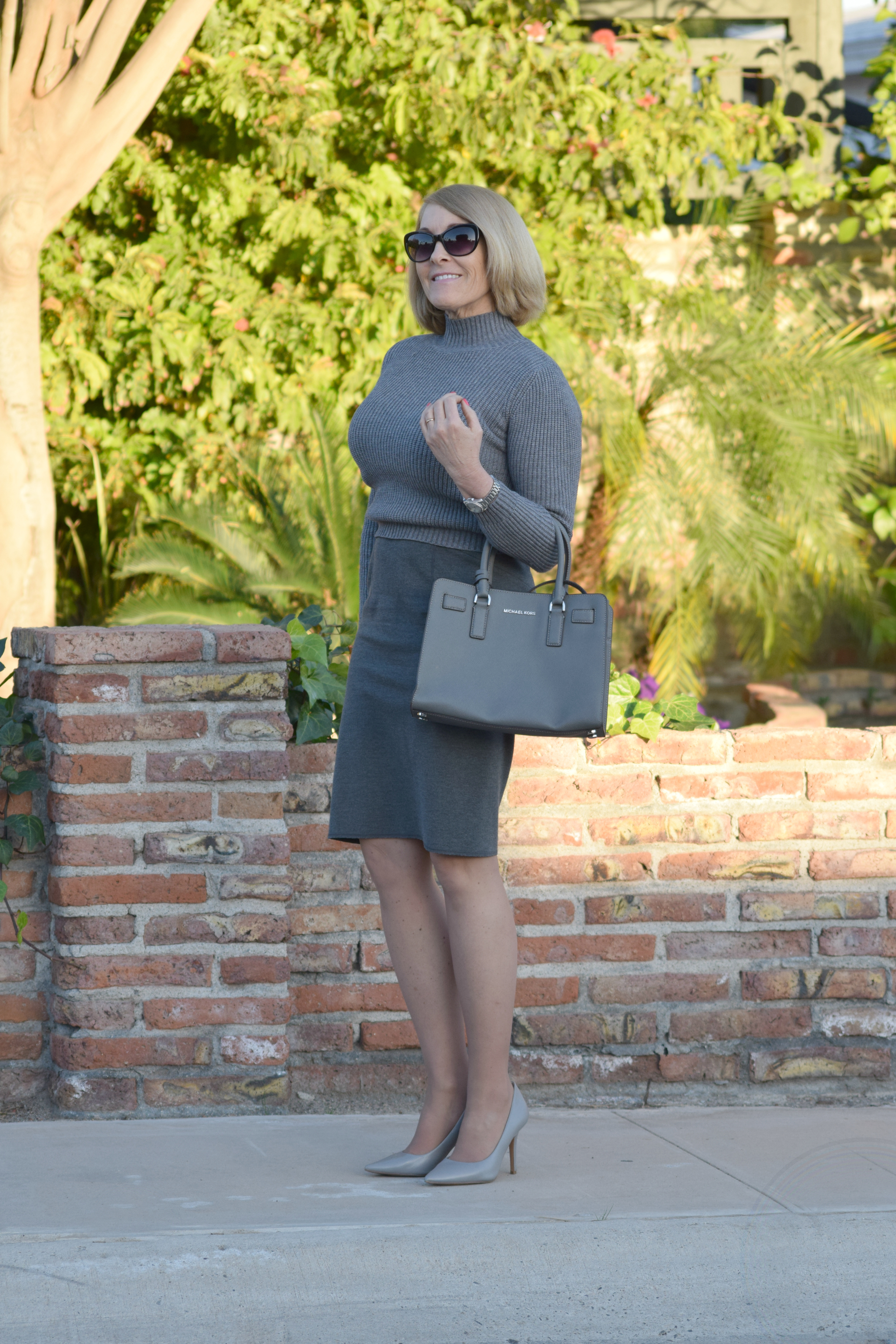 Sweater • Similar here,here, here and here | Skirt • Ann Taylor, tall version here, another option here | Shoes • Similar here and here | Bag • Michael Kors (old), other Michael Kors options here and here, a similar bag here and a big splurge on this Saint Laurent bag here | Watch • Michael Kors (also here)
Happy Monday! Today is all about a monochromatic color scheme.  I love the chic look of one color.  Besides the ease of putting it all together (go to the closet and grab everything grey) it looks so put together.  On those days when I don't feel very put-together, looking like I am is a nice confidence boost.
Speaking of putting it all together, a couple of weeks ago we started a conversation about Social Security.  There was so much to discuss it made sense to break the topic into a couple smaller pieces.  Last time we talked about the way your Social Security benefits are calculated.  It's important to know why you'll receive the amount of benefit you'll receive.  Is it the right amount?  How would I know?  Last time we talked about that calculation.  You can revisit that discussion here.
Can you increase the amount of your benefit? The easiest answer?  Yes you can.  One trick is to make more money.  We showed you the way your benefit is determined by taking an average of your 35 best working years.  If 2017 is financially your best year yet, that amount will be included in the calculation and a year of lower earnings is going to drop out.  You can probably see intuitively that a larger number in the mix creates a higher overall average.  In really simple math (1+2)/2 = 1.5 and (1+3)/2 = 2.  The average is higher when you replace a smaller number with a larger one. That higher average leads to larger benefits upon retirement.
Many of us aren't in a commission-based salary structure which allows us to earn more from our job.  The only way to make more money is to take a second job or start a profitable side-business.  You can always take one of those options to increase your monthly Social Security benefit.  It's an option, but it doesn't leave much room for family or a social life.  So what's a girl to do?
There is another way to increase your monthly Social Security benefits – delaying their start date.  You are eligible to receive benefits, with restrictions, after your 62nd birthday. Each year you delay between the ages of 62 and 70 your benefit increases about 8%.  That's pretty big.  Where else are you currently earning 8% on your money?  If you've ever looked at those statements Social Security sends you, they give you the estimated amount of your benefit, based on the earnings reported for you through your lifetime.  You can see that the estimated monthly benefit increases if you start taking Social Security at your full retirement age vs. age 62.  That benefit is even higher at age 70, and the 8% increase is why.  On top of that, Social Security benefits are also indexed for inflation, so theoretically you don't lose purchasing power year after year.
Adding the total of benefits received if you start at 62 vs. starting at 67, you break even somewhere in your early 70s.  Holding off until age 70 to start benefits, you break even around age 80.  I'm arriving at these conclusions without considering the time value of money.  That means I'm not considering taking the money at 62 and investing it or using it to pay off debt with a potentially high interest rate like a credit card.  I'm just taking the total benefit starting at age 62 and adding it, month by month.  Then I take the estimated monthly benefits at ages 67 and 70, respectively, and do the same thing, then see at what ages those totals meet.
After seeing those numbers you have to play the odds.  Do you think, based on your health and family history, you'll live well into your 80s or later?  Or maybe that 401(k) hasn't grown as much as you'd hoped.  You may want to wait until age 70 to start your Social Security benefits.  But maybe you feel as thought the stress of your job is killing you and you need to get out sooner rather than later.  You'll want to talk with your financial advisor, but taking distributions out of your retirement plan without starting Social Security may make more sense.  If your retirement plan isn't earning an 8% return, maybe you start distributions from that account while letting your Social Security benefit grow.
Even after all of this, there is still more to discuss about Social Security!  Stay tuned while we pick it up in another Money Monday, here on Haute Business!
To your better wealth,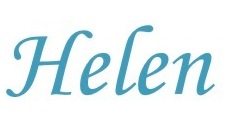 Review and apply for top credit cards at LendingTree.com!