You've bought a new sofa. You bring it home and set it right where you want it. You love everything about it – the size, the style, the color – and it's fabulous in the space. You know you want to accent it with pillows, maybe a table lamp or a vase, but which?  And in what color?
That's the way I felt about this orange dress. It was a cute style in a basic but seldom-used color. I accented with blue, the complement for orange on the color wheel, and I like the pairing. I think the size and style of necklace works really well with the dress.  I also included a pair of navy shoes, but the heel was low and didn't work well with the length of the dress.  As I looked at the photos, the word "dowdy" kept coming to mind.  Thank goodness for photo cropping!
Blue is the color you expect to see with orange, so. . . I went with deep burgundy for a redux. I grabbed a handbag and did a lipstick refresher in the same rich color and voila! a completely different feel. With the dramatic lip I opted to skip the necklace, but in retrospect I could have easily added one to the look.
The change is not so dramatic that you mistake it for a different dress, but it is noticable. The brighter orange keeps the combination feeling like a transition to spring rather than autumn.  Yep, definitely spring.  Did you catch my sneezing pic?  All that despite my influx of freshly-picked, natural vitamin C. 🙂  I couldn't resist throwing that photo in there – one of my "reality" shots!
I hope you're having a fabulous Monday!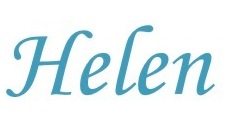 Calvin Klein Dress, also here (on sale!) | Chico's Necklace. Similar here and here | Louis Vuitton Bag, available pre-owned here and here, similar bags here and here  |  Christian Louboutin Shoes  |  MAC Plum Lipstick