When the summer heat hits, I prefer dresses over shorts. Summer dresses feel cooler and less binding than other clothing options. Since our little corner of the world hit 109 degrees yesterday little details like that become really important!  I want a dress that is loose and comfortable but still has shape to it.  Otherwise I look a bit like a circus tent.
This summer dress from J.Jill hits all the high notes: comfort, style, and . . . pockets! Pockets are tricky.  I usually avoid them because they add bulk (who needs that?) but these manage to avoid that potential issue. In fact, I didn't realize the dress had pockets until I put it on and noticed the seams. They are that inconspicuous.
Regarding style, did you catch what's happening in the back?  The layers are such a fun surprise – some serious visual interest which proves this isn't your basic T-shirt dress.  The little details make such a difference!  And it's J.Jill, so comfort almost goes without saying.  I'm wearing a size small in color Dragonfruit.  The dress also comes in Navy and a pretty floral called Lotus Orchid Garden.  If you prefer sleeveless, this option is very similar, with several color choices.
As far as accessories, I've linked several below.  I've had my wedges for a while and couldn't find an exact match.  There is no shortage of wedge offerings right now and I linked several below if you're in the market, including a pair my sister-in-law says are some of the most comfortable she's ever worn.  I also tried unsuccessfully to match my scarf, but I did find a lot of pretty prints at reasonable prices.  I thought the idea of tying it to the bamboo bag added a pretty touch of whimsy.  It's getting too hot hear to try wrapping it around my neck!
I hope I've given you a little summer dress inspiration.  Have a lovely Monday!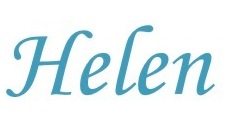 I receive commissions from purchases made through clicks from this site.
J.Jill Dress c/o |  Scarf, similar here, here, here and here  |  CULT GAIA small Bag, larger here and here and a really cute variation here  |  Wedges, similar here, here,  here and my sister-in-law's favorites here.