And just like that, August is a memory and we're into September. More importantly, we've got a long weekend on the horizon. Do I look just a little bit happy about it? 🙂
Although the official end of summer doesn't occur until later this month, as students go back to school this weekend marks the unofficial end of the season. When I lived in Virginia, Labor Day weekend was filled with events around the community, such as neighborhood barbecues and games at the community pool.  My favorite was the contest to see who could pull the greased watermelon from the pool's deep end.
However you celebrate this weekend, I hope you have a wonderful time. Please stay safe and be sure to check out my Instagram account @helengreenwell for a great loop giveaway.  It's been a while since I've been part of a giveaway but I think you'll like this one!
I'm keeping it short today since I know you're eager to get into your long weekend. Hang on Beauties, the weekend's coming!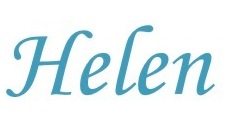 French Kande Necklace c/o | Foxcroft Button-Down Shirt, another here | Ripped Jeans here, here  and here | Rebecca Minkoff Bag | Michael Kors Watch | Nordstrom Sunglasses | San Diego Hat Company Fedora | Sam Edelman Shoes